Investors in Anheuser-Busch InBev NV are wearing their beer goggles.
The producer of Budweiser and Stella Artois generated better than expected sales and profit growth in the final quarter of 2017.
That was largely due to spending power returning to Brazil, the group's largest market after the U.S., following two tumultuous years in the region.
But the 6 percent increase in the share price on Thursday looks overdone. Dig a little deeper, and there are still some reasons to be cautious.
Firstly, the company's final quarter of 2017 is getting compared with a particularly weak period a year earlier for organic growth.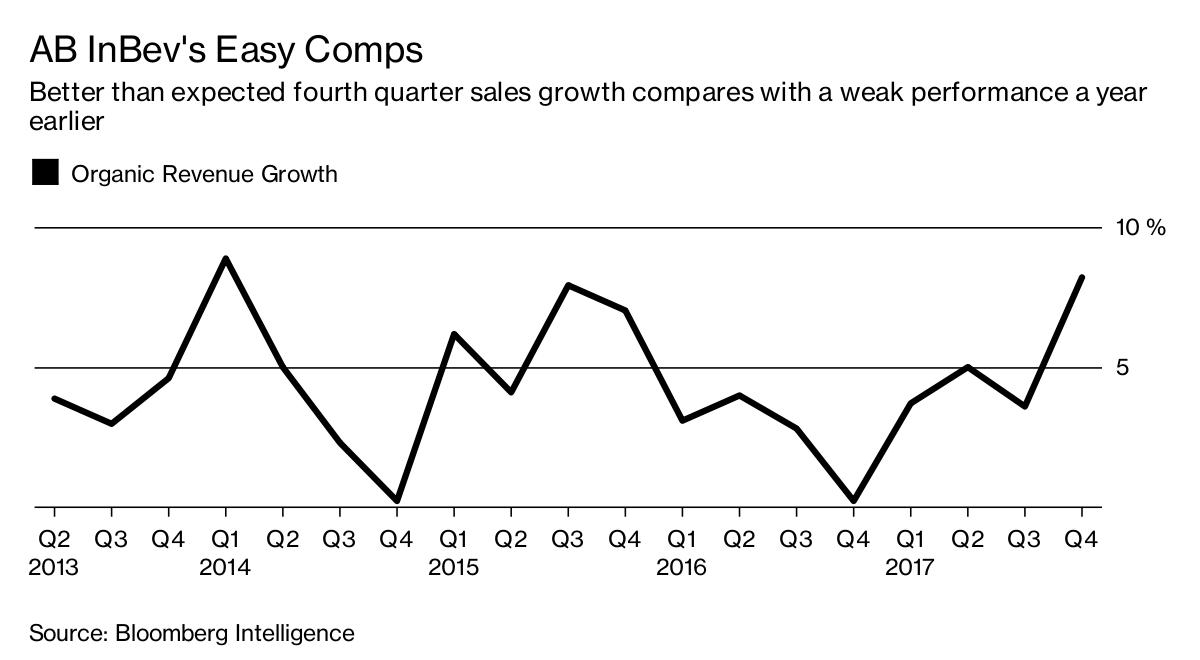 While the performance in the U.S. improved, with market share declining less in the final quarter than the previous three months, there remains more work to do.
Meanwhile, the company faces the possibility of greater cost pressures from higher U.S. aluminium tariffs.
Finally, although the brewer expects its performance to be as strong this year as in 2017, it is warning of a softer first quarter, thanks to an earlier carnival in Brazil.
Even with Thursday's gain, the shares are down about 10 percent on the year. They trade on a forward price to earnings ratio of just under 22 times, in line with that of rivals. It should be at a decent premium, given its scale and its superior margins. 
The stronger final quarter performance is a good start. But a return to growth in the U.S. is needed for the glass to become half full.
This column does not necessarily reflect the opinion of Bloomberg LP and its owners.