AT&T Inc. earnings hit after the close of trading today, and investors need to keep two possible scenarios in mind as they look at the numbers: 1) that the company's Time Warner Inc. takeover gets done and allows the wireless giant to morph into a powerful media conglomerate a la Comcast Corp., or 2) that none of that happens, and what you get is what you see.
Without the deal, AT&T's weaknesses will be more pronounced and its next chapter will be left open-ended—not to mention that nearly two years of planning, negotiations, adviser fees and legals costs will have been for nothing. If the deal does get done, the wireless-service and pay-TV provider's bundling opportunities and bargaining power will be greatly enhanced, though it will also have to contend with an unprecedented level of debt that must be balanced against a dividend-hungry investor crowd and a costly but crucial 5G-network build. Interpreting the company's quarterly results depends on which of these scenarios ultimately plays out. 
becoming more confident that the transaction will survive court. If it doesn't, those shareholders may be forced to see two key operational metrics in a different light.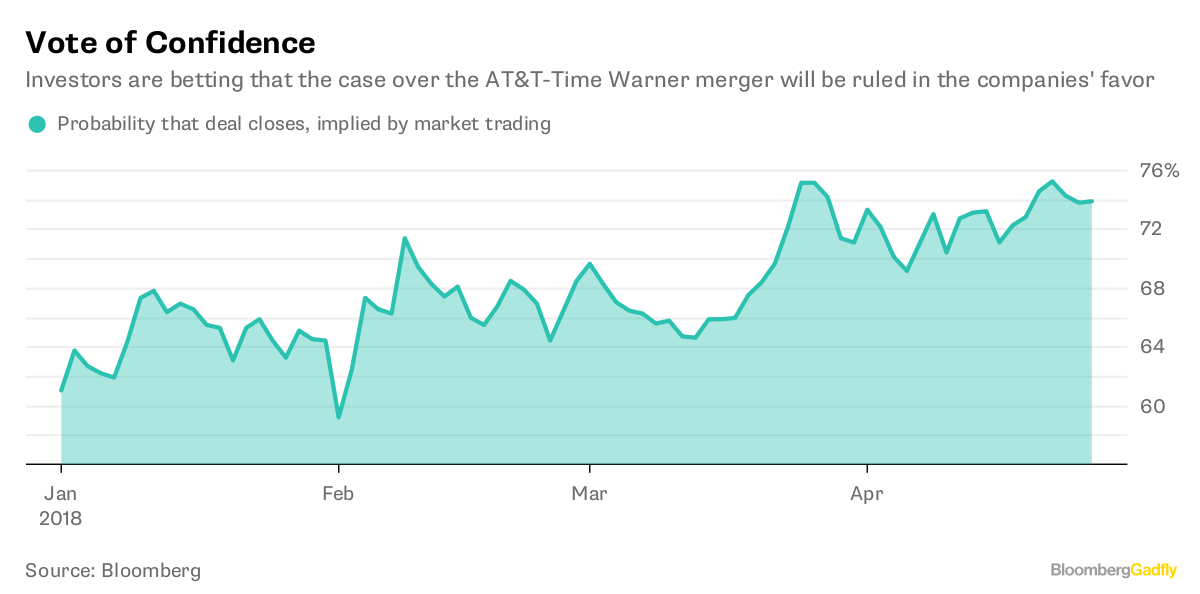 Once again, AT&T posted gains in U.S. wireless subscribers and video subscribers, even as earnings missed analysts' estimates. But let's drill into those subscriber figures. 
AT&T's net increase in DirecTV customers includes folks who signed up for DirecTV Now, a service that allows subscribers to stream a select set of channels over the internet for a cheaper price than traditional pay-TV packages. Streamers are a less profitable customer base and can cancel more easily. If you strip out DirecTV Now's contribution, the DirecTV satellite business lost 188,000 customers. So while AT&T can say it technically added video subscribers overall, the DirecTV business it bought for some $67 billion in 2015 is still shrinking.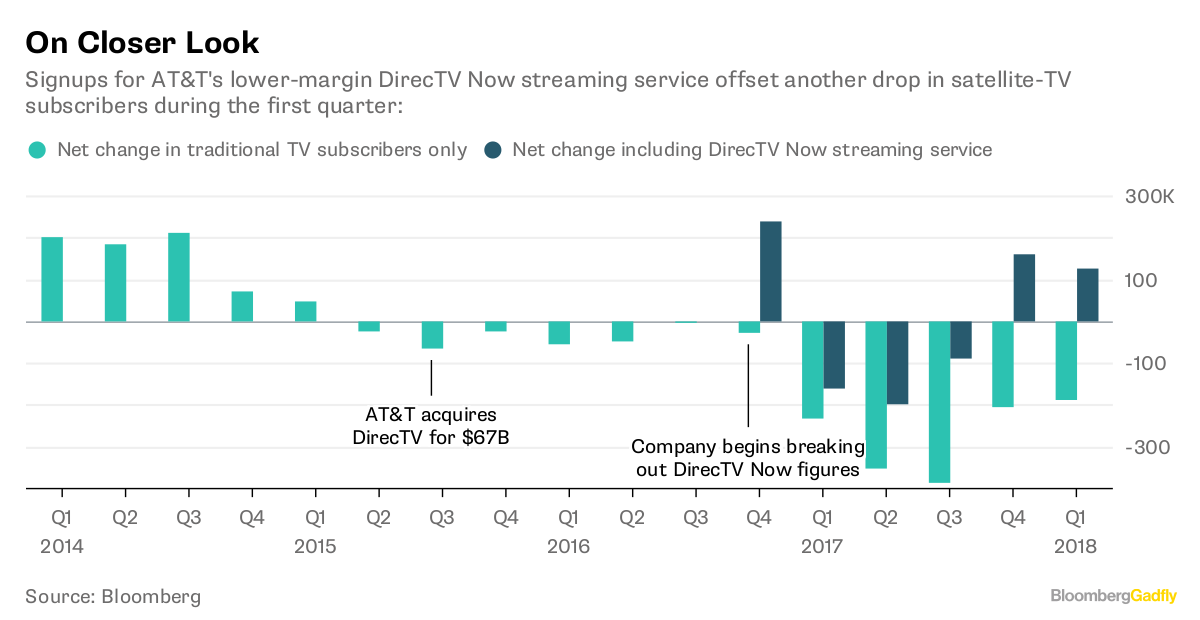 It's not just DirecTV's results that may have been a tad over-hyped. The company had a big surge in subscribers for its core wireless business during the quarter before this one, but analysts from New Street Research LLP are questioning the quality of those gains. The top carriers have pushed aggressive promotions, led by AT&T's buy-one-get-one-free iPhone offer, which required customers who took advantage of the promo to add another line. New Street's analysts are concerned that if customers were prompted "to add lines they don't need to get free or cheap devices," a portion of those lines "will be disconnected in due course." This means investors should watch for higher churn rates down the road. Already the benefits of such promos may be waning, with AT&T adding just 49,000 wireless postpaid customers in the first quarter, versus more than 550,000 in the fourth quarter.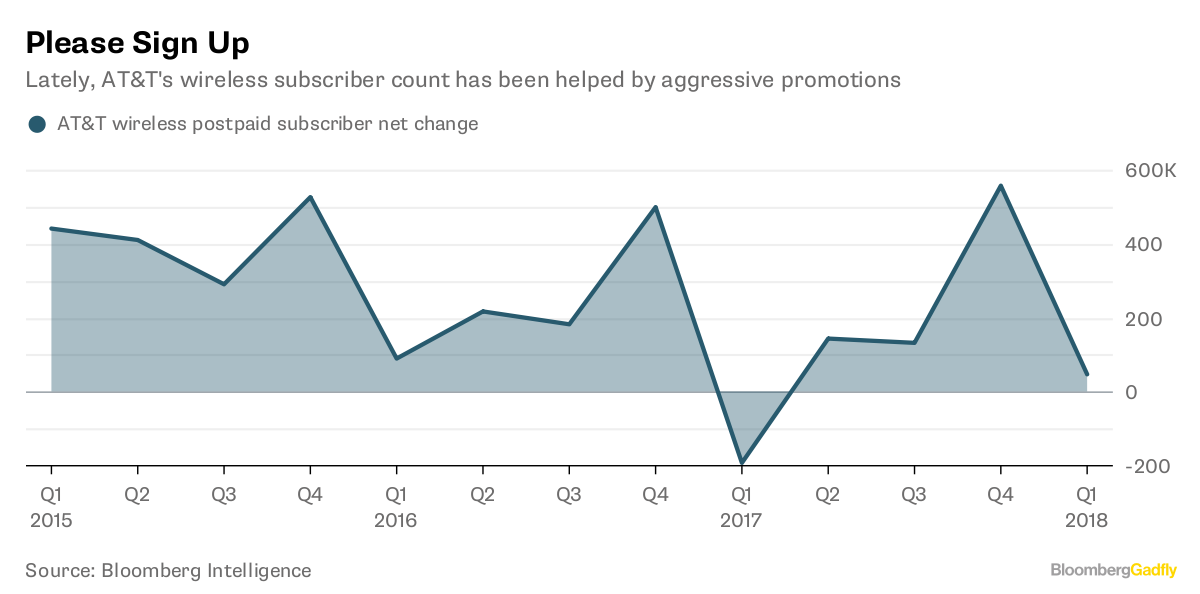 With Time Warner's assets—namely HBO, Turner Broadcasting and the Warner Bros. film studio—AT&T will look like an entirely different company. It will look a lot like Comcast, and that's part of the problem from the Justice Department's standpoint. Time Warner will face its own challenges around advertising trends and trying to stuff its array of networks into limited streaming packages. But there's no question that it will help make sense of Randall Stephenson's expansion of AT&T into the pay-TV market and improve AT&T's positioning and value proposition.
Should the Time Warner acquisition get blocked, it will mark a third deal disappointment for Stephenson. The first was AT&T's attempt to buy T-Mobile back in 2011, which also faced regulatory opposition. DirecTV was the second—it got done, but it's clear now that AT&T overpaid. 
Until there's clarity on deal No. 3, take AT&T's results with a grain of salt.
To contact the editor responsible for this story:






Beth Williams at bewilliams@bloomberg.net