Ericsson AB's investors got a rare cause for celebration Friday as first-quarter results demonstrated that the Swedish network-equipment vendor is finally making progress in a protracted effort to reverse its fortunes.
Shares soared the most in almost a decade after Ericsson posted earnings that were stronger than analysts had expected. Its closely watched gross margin — the share of sales remaining after production costs — rose to 35.9 percent on an adjusted basis from 18.7 percent a year earlier, lending credence to Chief Executive Officer Borje Ekholm's expense reductions.
"I think people may have underestimated the force of our cost cuts and our ability to execute on those measures," Chief Financial Officer Carl Mellander said by phone. "This quarter proves that the measures are starting to bite."
The stock rose as much as 18 percent, the steepest intraday advance since October 2008, and was trading 16 percent higher at 64.36 kronor at 9:10 a.m. in Stockholm.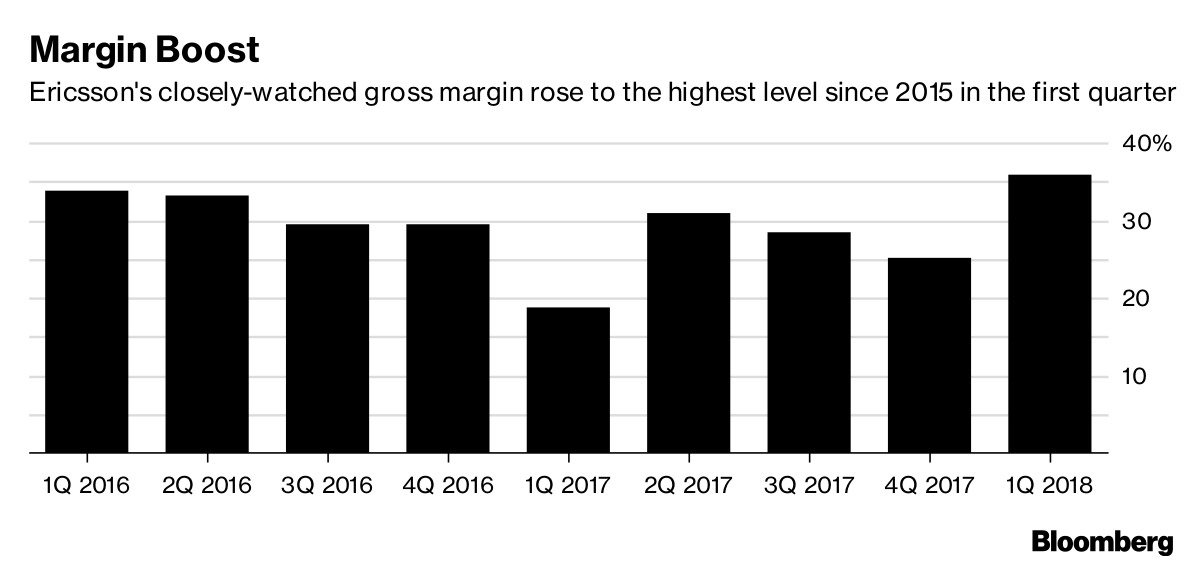 The gross margin improvement is a welcome sign that the company's cost cuts and a new product range are translating into improving profitability, despite sluggish demand for network equipment. Ericsson is facing a weak market for mobile equipment and struggling with past missteps, as it's burdened by unprofitable businesses that were acquired as Ekholm's predecessors tried to diversify the company's offering and customer base.
"These set of results clearly shows that the company's recovery plan is beginning to show strong results," Liberum analyst Janardan Menon said in a note. "However, the industry remains challenging and quarterly trends are relatively unpredictable."

During his 15-month tenure, Ekholm has conceded that righting Ericsson's performance will take longer than initially thought. The company has been hit by lower investments by carriers whose revenues are stagnant, while also facing facing stiff competition from

Huawei Technologies Co. Ltd. and

Nokia Oyj.
Ekholm has responded by ending or renegotiating unprofitable service contracts while also investing in research and development to secure its position when operators start investing in new, fifth-generation networks.
"Our efforts to improve efficiency in service delivery and common costs are starting to pay off," Ekholm said in a statement Friday. "The improvements in the quarter are encouraging."

Like its Finnish rival, Ericsson has tried to turn investors' attention to 2020, when the equipment vendors expect investments in new 5G networks to reach a level that will provide a tangible boost to their earnings. Ericsson aims to lift its adjusted operating margin to more than 10 percent by 2020, from less than 1 percent last year.
Deeper, Faster
Not everyone is content with the pace, though, and activist investor Christer Gardell, who has amassed a 9 percent stake in the company, has called for Ericsson to cut costs deeper and faster. The Wallenberg family's listed holding company,

Investor AB, said Friday it has raised its stake in Ericsson to 7.2 percent of the capital. Investor AB controls a large number of vote-heavy A-shares in Ericsson, meaning its share of the votes is 22.5 percent.
In its key network division, Stockholm-based Ericsson said its product portfolio had become more competitive in the last three quarters of 2017, resulting in market share gains. The adjusted gross margin for that unit improved to 40 percent in the quarter, from 35 percent a year earlier.
Ericsson's prospects may also have brightened after the U.S. Commerce Department earlier this week barred China's ZTE Corp. from buying any components from U.S. suppliers until 2025. The move is a
crippling blow to the Chinese company's ambitions to challenge the current troika of dominant equipment vendors. Asked about the implications for Ericsson, Ekholm said on a conference call Friday that it's too soon to draw any conclusions.
"I think many customers are asking questions," Ekholm said. "But let's refrain from summarizing that yet."
The company still faces a daunting task in improving the situation at its unprofitable digital services business. The unit, which provides software solutions and IT products, posted a smaller deficit than analysts had expected in the first quarter, following a 28 billion-krona loss in 2017.
"It's an improvement, but there's a lot of work left to be done," Mellander said about the unit. "We are still making a 2 billion-krona loss, and that's the kind of thing that can keep you awake at night."
— With assistance by Kasper Viita