Hennes & Mauritz AB's troubles look almost as hard to shift as the unwanted ripped jeans and slogan sweatshirts in its stores.
A poor fourth quarter from warm autumn weather and fashion missteps meant it started the first quarter with too much stock.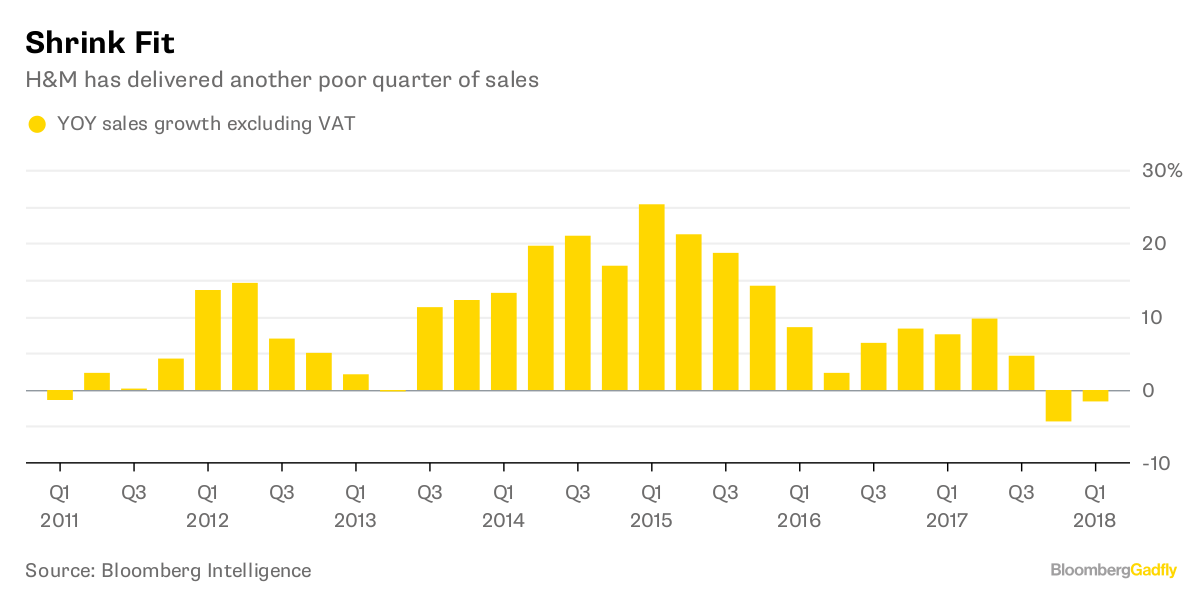 Efforts to slim inventories in the period through February were then hampered by the arctic conditions that swept across Europe. That meant there was little demand for its patterned trousers and off the shoulder tops. As of Feb. 28, the value of its mostly unsold stock was up 7 percent from a year earlier, excluding currency movements, to 35 billion kronor ($4.3 billion).
H&M said Tuesday it now expects markdowns in the second quarter — a period not normally known for discounting —  to be higher than in the corresponding period in 2017.
That looks at odds with its forecast for a "somewhat better" result in 2018 than the year earlier.
True, the company does have another nine months to make up for the recent poor showing. It expects that both online sales and those from its collection of brands outside of the core H&M business will increase by 25 percent for the full year.
Meanwhile, the sourcing environment is becoming easier, thanks to the weaker dollar, and the company is confident that its fashion mistakes are being corrected.
It will also get a hand from weak comparisons for the remainder of the year, given that sales fell off a cliff in 2017.
Even so, an improvement this year looks fanciful. March is likely to have been difficult, due to a continuation of the freezing temperatures.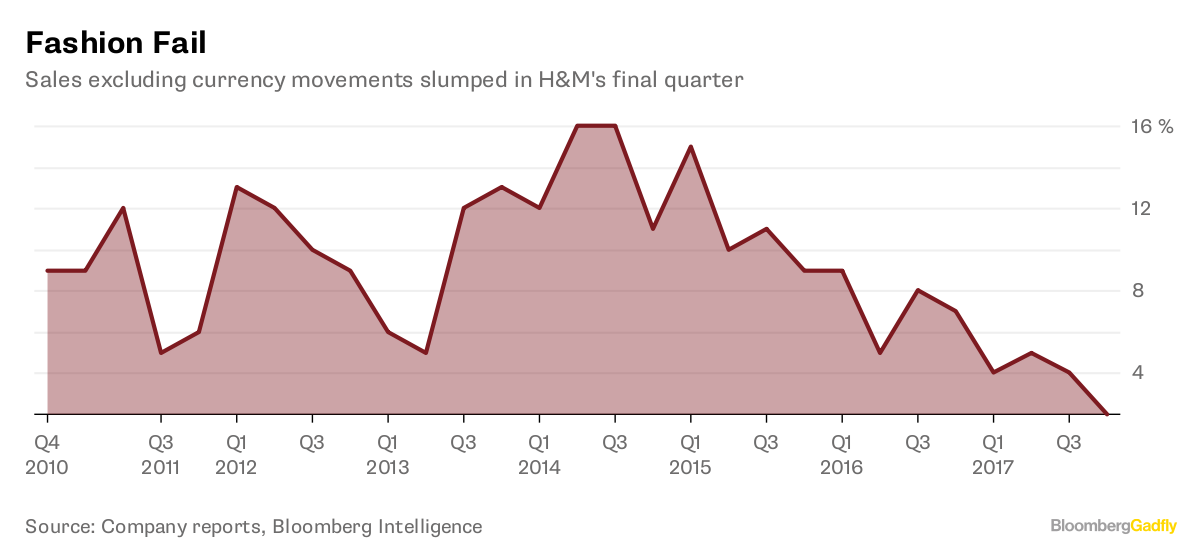 As Gadfly has argued, H&M is doing the right thing by diversifying away from its namesake chain, by adding new brands. The trouble is, sales at these labels are not yet big enough to move the dial.
Meanwhile the core chain remains deeply challenged. Generally difficult conditions across the clothing sector — affecting even the strongest players — aren't helping either.
The shares, which at one point on Tuesday had dropped to their lowest level since 2005, have almost halved over the past year.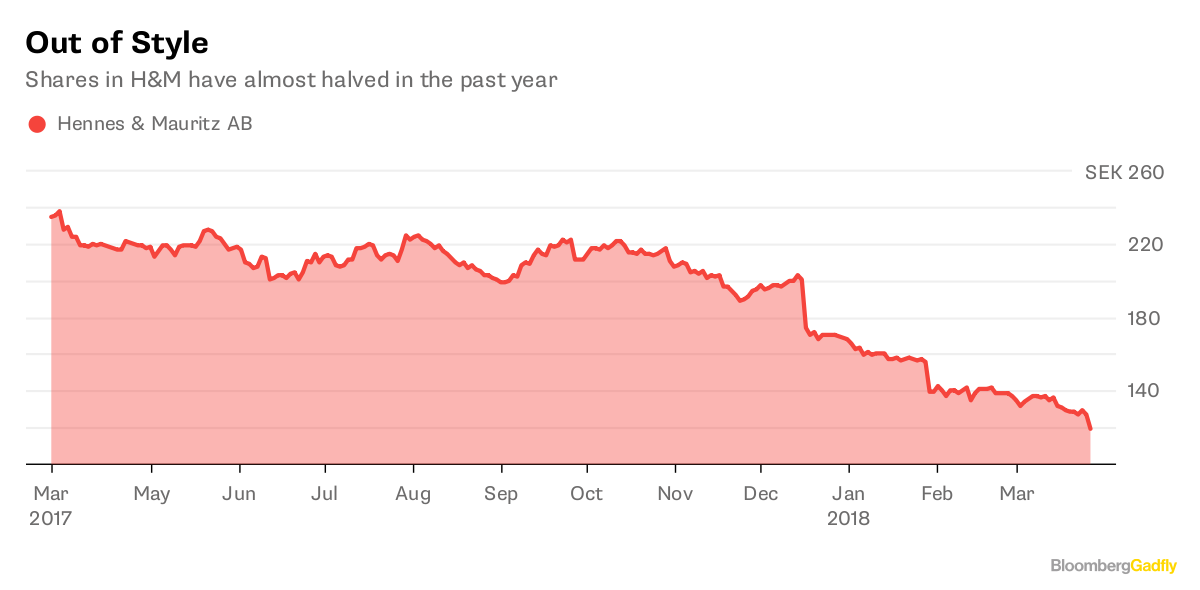 They trade on a forward price earnings ratio of about 13 times, compared with Inditex's 21 times.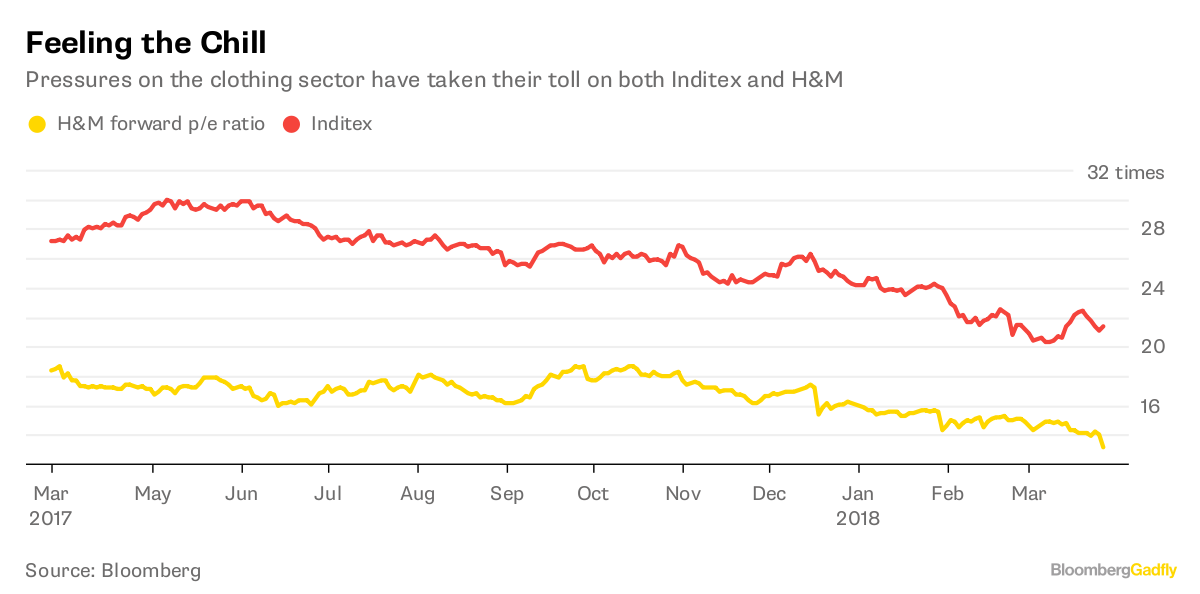 Both companies face the same fundamental issue: their selling point was cheap chic. But the rise of Associated British Foods Plc's Primark, which is expanding in Europe and the U.S., means they are just not as cheap as they used to be. Others, such as Boohoo.com Plc, are getting the latest looks to customers just as quickly as even Zara, so they are not quite the leader in chic either.
Nevertheless, H&M's discount to Inditex looks deserved.
It is the closest in offering to Primark, and must differentiate itself as much as possible from its rival, by either having superior fashion so that it looks more special, or becoming cheaper. It it already trying to improve its value for money and reconnect with a broader range of customers after becoming too focused on young shoppers. But this work, together with boosting online capabilities and sprucing up stores, will take time and require significant investment.
There's little on the horizon to suggest things will get better any time soon. Unless there is a big upswing in demand — perhaps from a heatwave coinciding with new fashions hitting the shops, H&M risks being as over-optimistic in its outlook as it was when it was trying to convince shoppers to buy skimpy jumpsuits in January.
This column does not necessarily reflect the opinion of Bloomberg LP and its owners.
To contact the editor responsible for this story:
Jennifer Ryan at jryan13@bloomberg.net