The heat is rising for the new papa at

Papa John's International Inc., with investors sending the company's shares down the most in six months following a disappointing earnings report.
The chain's latest quarterly report showed it's struggling to compete with a resurgent Domino's Pizza Inc. — the key metric of same-store sales trailed estimates. Chief Executive Officer Steve Ritchie, who took over from founder John Schnatter in January, pledged "significant change" to improve performance. The shares fell as much as 11 percent.
Papa John's wants to better differentiate the quality of its product to justify its higher prices, while simultaneously offering more low-budget options. It's now promoting a $12.99 family meal that includes a pizza, a two-liter soft drink and a side of bread sticks, which Ritchie told analysts is catching on with consumers.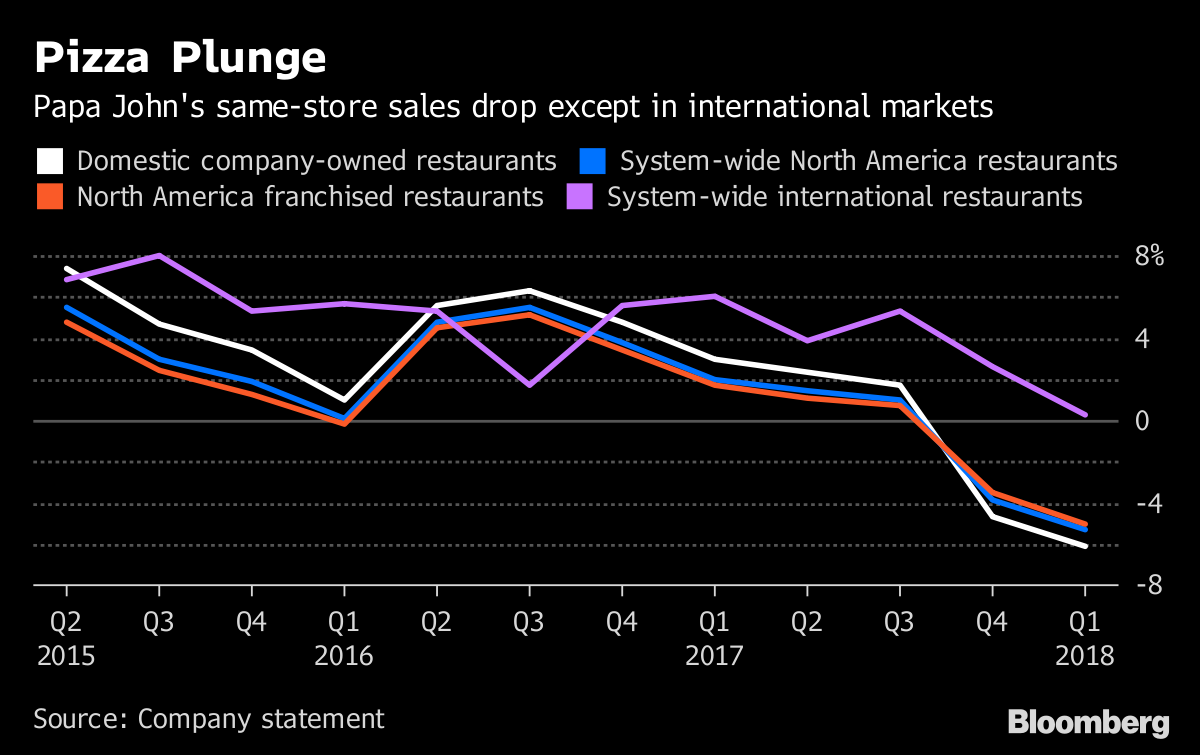 Even so, Papa John's also needs to figure out how to revamp its image, which took a hit after Schnatter, who remains as chairman,
feuded with the National Football League last year. Ritchie said an overhaul is underway, with Chief Marketing Officer Brandon Rhoten departing while the company searches to fill his role.
"Given the sales challenges we're experiencing in this brand, we need someone that can move quickly and with the level of pace and agility that's required in a retail environment that is as competitive as the pizza category," Ritchie said.
Patience Required
The company's turnaround efforts "will require investor patience as the right value construct is found, tested, and launched," said Will Slabaugh, an analyst at Stephens Inc. In a note to clients, he said he was optimistic the company could improve its trends by the fourth quarter, citing its "strong brand, natural convenience."
Papa John's reported North America comparable sales contraction of 5.3 percent on Tuesday after markets closed — deeper than the 4 percent drop seen by analysts, according to Consensus Metrix. International comparable sales were positive — but just barely at 0.3 percent — trailing the estimate of 2.7 percent.
Revenue of $427.4 million was also short of analysts' expectations.
The results contrast with Domino's most recent quarter, which sent shares up 7.3 percent after revenue beat expectations by almost $100 million.
Papa John's shares have fallen by 31 percent in the last 12 months. The stock fell to as low as $52.03 on Wednesday, the lowest point intraday since Nov. 1.