PetroChina Co.'s profit rose 78 percent in the first quarter as the country's largest oil and gas producer benefited from a rally in crude prices while holding in check its losses from reselling imported gas.
Net income rose to 10.15 billion yuan ($1.6 billion) in the January-March period, from 5.7 billion yuan a year ago, the Beijing-based company said in a statement posted to the Shanghai stock exchange around midnight Saturday. That's the highest quarterly profit since the second quarter of 2016. Revenue increased 9.9 percent to 542.7 billion yuan.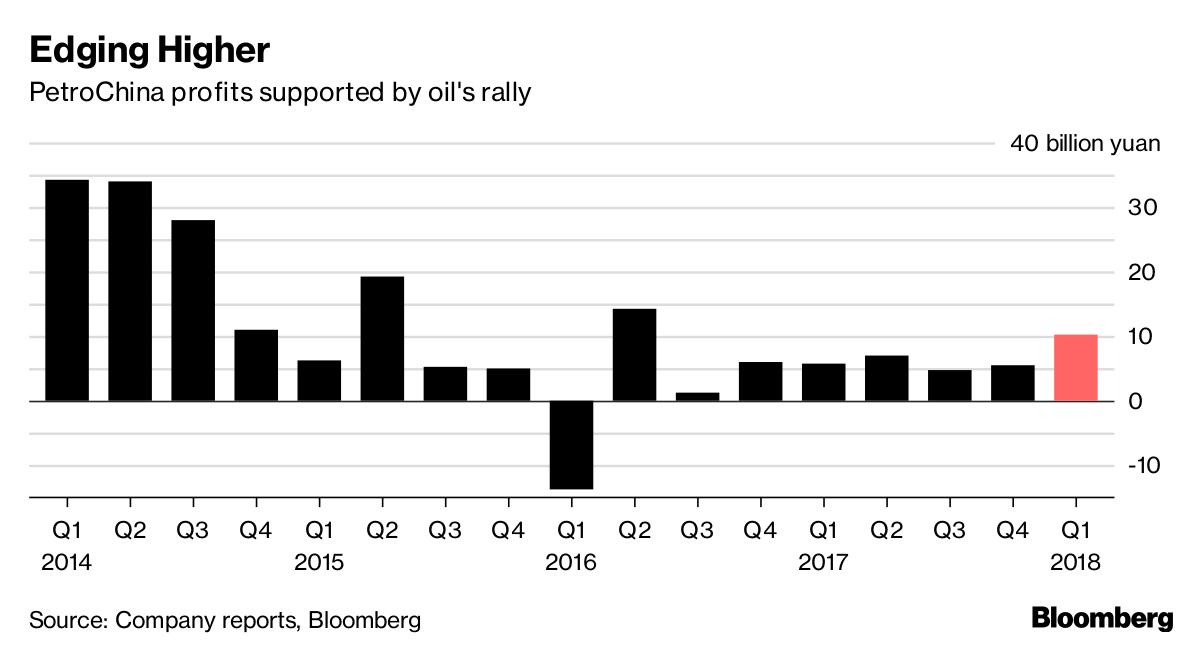 Like other major global producers, PetroChina, which accounts for
more than half the nation's crude and gas output, is reaping the rewards of a price rally mainly driven by
OPEC-led production cuts. But as the nation's biggest natural gas supplier, it's also burdened by reselling overseas supplies of the fuel at government-controlled prices, which are lower than its costs of importing through long-term supply contracts.
Operating profit in PetroChina's exploration and production division surged more than fivefold to 9.7 billion yuan in the period, even as oil and gas output was flat, the explorer said in the statement.
Meanwhile, losses from importing natural gas, by both pipeline and via tanker in liquid form, narrowed to 5.82 billion yuan from 5.98 billion yuan because of "effective cost control measures," it said.


Shares on Friday rose 2.1 percent to HK$5.74 in Hong Kong before the earnings were released, compared with a 0.9 percent gain in the city's benchmark Hang Seng Index. Brent crude, the global marker grade, averaged $67 a barrel in the first quarter, up from $55 a year earlier, and exceeded $75 this month for the first time since 2014.
Other operational details from the first-quarter include:
Total oil and gas output was unchanged at 366.8 million barrels

Crude fell 1.4 percent to 213.7 million barrels, while natural gas output rose 2.1 percent to 918.5 billion cubic feet

Refinery throughput rose 14.9 percent to 282.2 million barrels

Gasoline output jumped 19.2 percent to 10.6 million tons, diesel rose 12.8 percent to 13.2 million tons

Capital expenditures were 57.1 billion yuan, compared with 40.3 billion yuan a year ago
The Chinese oil giant
paid out in 2017 dividends slightly more than its full-year earnings of 22.8 billion yuan. It plans to keep crude production this year little changed at 888 million barrels after output slid 3.7 percent in 2017, while raising gas production about 3.5 percent, it
said in March. The company is also seeking to increase capital expenditures by about 4 percent this year to 225.8 billion yuan.
State-owned peer China Petroleum & Chemical Corp., known as Sinopec,
posted its highest quarterly net income since 2015 on Thursday.

Cnooc Ltd., which doesn't report quarterly profit, said last week revenue
rose 11 percent to 42.52 billion yuan on higher crude prices and output.