Tencent Holdings Ltd.'s having about as bad a month as


Facebook Inc. — on financial markets, at least. Analysts are betting it'll pull through.
The Asian social media colossus has


bled more than $50 billion of value since

warning on March 21 of dwindling margins. Shortly after, it got caught up in a global

selloff of internet stalwarts as investors fretted about the risk of regulatory tightening in the wake of Facebook's


Cambridge Analytica controversy. Then it came under pressure when the prospect of a

trade war with the U.S. intensified. In the middle of all that, largest shareholder


Naspers Ltd.

declared it was unloading a $9.8 billion stake.
The 53 analysts who cover Asia's largest stock are mostly standing firm. The gap between its shares and their


average price target has ballooned to more than 20 percent. That's the biggest increase in the disparity among peers from beleaguered Facebook to fellow Chinese internet giant


Alibaba Group Holding Ltd., which like Tencent

succumbed in part to fears about margin-erosion.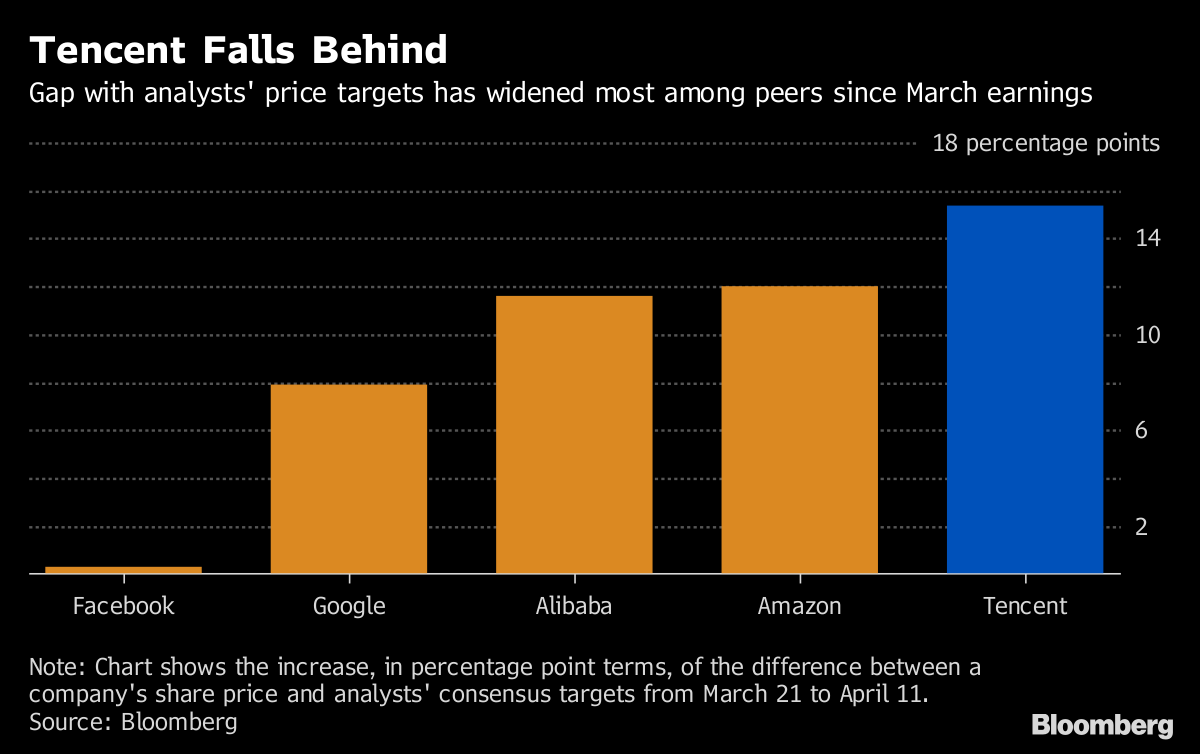 The average 12-month target price on Tencent remains at the highest it's been in a year. Despite hints of lower profitability, many investors believe Tencent's WeChat and game development prowess will help it sustain growth. That's helped push its two-year earnings


multiples to more than 34 times — higher than peers from Alibaba to


Baidu Inc., and 46 percent above the industry average.
Looming over Tencent however is the less-predictable impact of government regulators and censors, which maintain a careful watch over the country's internet media. On Thursday, its shares slid a further 1.5 percent — the

most in a week — hurt by signs that Beijing is

deepening an ongoing crackdown on dissent and content deemed undesirable.


Read more: Once-Invincible Tencent Joins Ranks of Internet Mortals: Gadfly