Tencent Holdings Ltd. said investments in content and technology will weigh on margins after Asia's most valuable company posted quarterly profit that topped


projections.
Plans by the Shenzhen-based company to keep spending on areas including artificial intelligence and video may weigh on short-term profitability but it expects the investments will anchor long-term growth. Tencent reported net income almost doubled to 20.8 billion yuan ($3.3 billion) in the three months ended December, beating the 16.6 billion-yuan


expected by analysts.
Tencent's business revolves largely around its vast social networks WeChat and QQ, the twin platforms through which more than a billion people consume games, news and online entertainment while paying for a plethora of real-world services. Chief Executive Officer Ma Huateng is now angling to grab a larger slice of an

advertising pie dominated by


Alibaba Group Holding Ltd., while investing in new areas such as financial, retail and computing services.
"Tencent needs to invest in new business, it would help the company build a better ecosystem infrastructure to support growth, but it will hurt margins in the short term," said Benjamin Wu, an analyst at Shanghai-based consultancy Pacific Epoch.
Tencent's quarterly profit included gains in the quarter of 7.9 billion yuan thanks mainly to the initial public offerings of


Sea Ltd., Sogou Inc. and Yixin Group Ltd. Those are just three of the 600 companies the company has invested in. Quarterly revenue rose 51 percent to 66.4 billion yuan but fell short of projections for 68.6 billion yuan.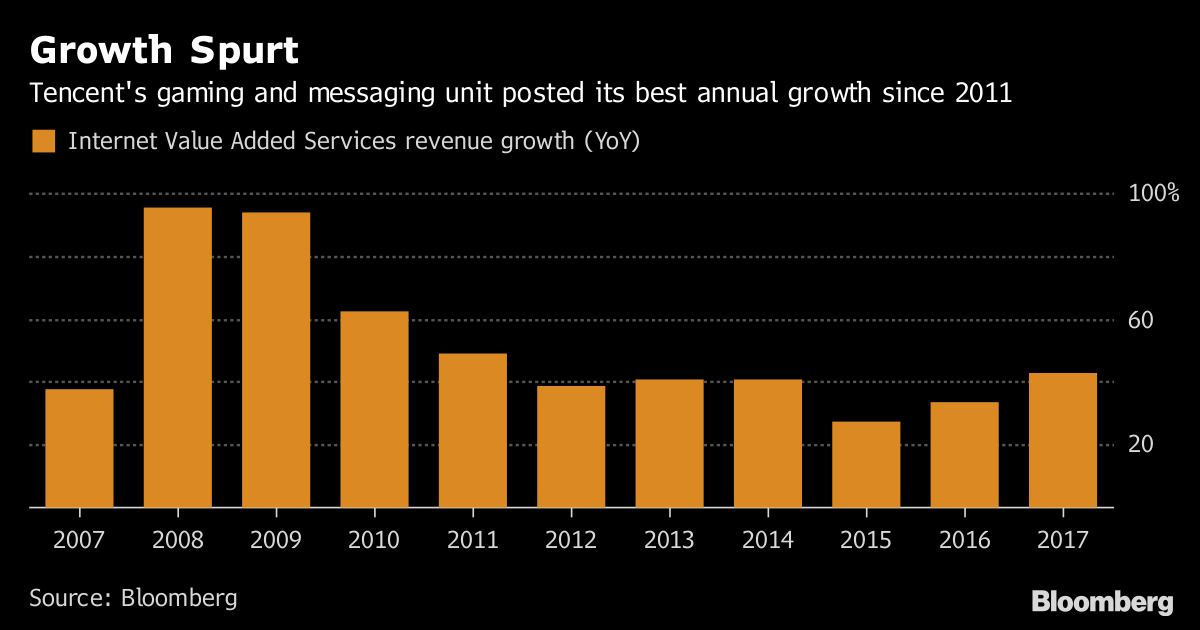 Tencent shares fell 0.9 percent before the earnings were announced. They've gained 14 percent this year and are among the world's

best-performers over the past decade.
Revenue from the Value Added Services unit, which includes online games and messaging, climbed 37 percent but online advertising sales surged a much-quicker 49 percent. Costs however soared 72 percent, reflecting the expense of acquiring video and music content to keep users hooked as well as investment in new businesses such as cloud computing. Executives told reporters on Wednesday that spending was crucial to the longer term.
"That's why for the year of 2018 we are planning to step up our investments in a number of key areas," President Martin Lau told a press briefing. "These investments may negatively affect our near-term profitability, but will generate long term value and new growth opportunities for us."
Lau said the company's Tencent Music business is suitable for its own IPO while Ma said a listing of Tencent shares on a

mainland exchange would be considered if policy conditions are viable.
After striking gold with Honour of Kings, Tencent developed two mobile versions of PlayerUnknown's Battlegrounds, the world's hottest personal computer title last year. Since their January debut in China, the pair have given Tencent a much-needed boost in momentum, attracting more than 80 million players, combined. The company is still in talks with regulators to introduce a desktop version of PUBG.
Honour of Kings remains a staple for Tencent. Developed in-house, the mobile hack-and-slash title loosely resembles the world's most popular desktop game — League of Legends, whose developer Riot Games Tencent acquired in 2015. But Tencent is also moving swiftly into areas such as financial services, aiming to compete more directly with Ant Financial, the Alibaba affiliate that's dominated payments for years.
Tencent's payments services was now No. 1 in China when measured by daily or monthly active users, Lau said. Its Licaitong wealth-management service harbored more than 300 billion yuan in assets as of January, while Weilidai — its nascent lending business — had outstanding loans of more than 100 billion yuan at the end of 2017.
"We are substantially increasing our investment in areas including video, payment, cloud, AI technologies and smart retail," Ma, who is also known as Pony, said in an emailed statement.
— With assistance by Brandon Kochkodin, and Shelly Banjo