U.S. stocks ended mixed, with a slump in shares of
technology companies weighing on major indexes. The dollar rallied to its highest level in more than three months as the prospect of yields on benchmark U.S. Treasuries reaching 3 percent reignites demand.
The fluctuations in equities were probably caused by "the 10-year bumping up against 3 percent," Gary Bradshaw, a portfolio manager at Hodges Capital Management in Dallas, said by phone. "There's just been the volatility in the market that's got investors a little bit nervous. And there's the news on Apple and the chip stocks causing some consternation."
The greenback strengthened against major peers as the yield on the U.S. 10-year note hit 2.99 percent for the first time since 2014 before paring the increase. The pound joined major currencies retreating against the dollar as U.K. Prime Minister Theresa May
battled to avert a cabinet revolt over Brexit. Aluminum prices plunged after the U.S. softened its position on sanctions against Russia's United Co. Rusal.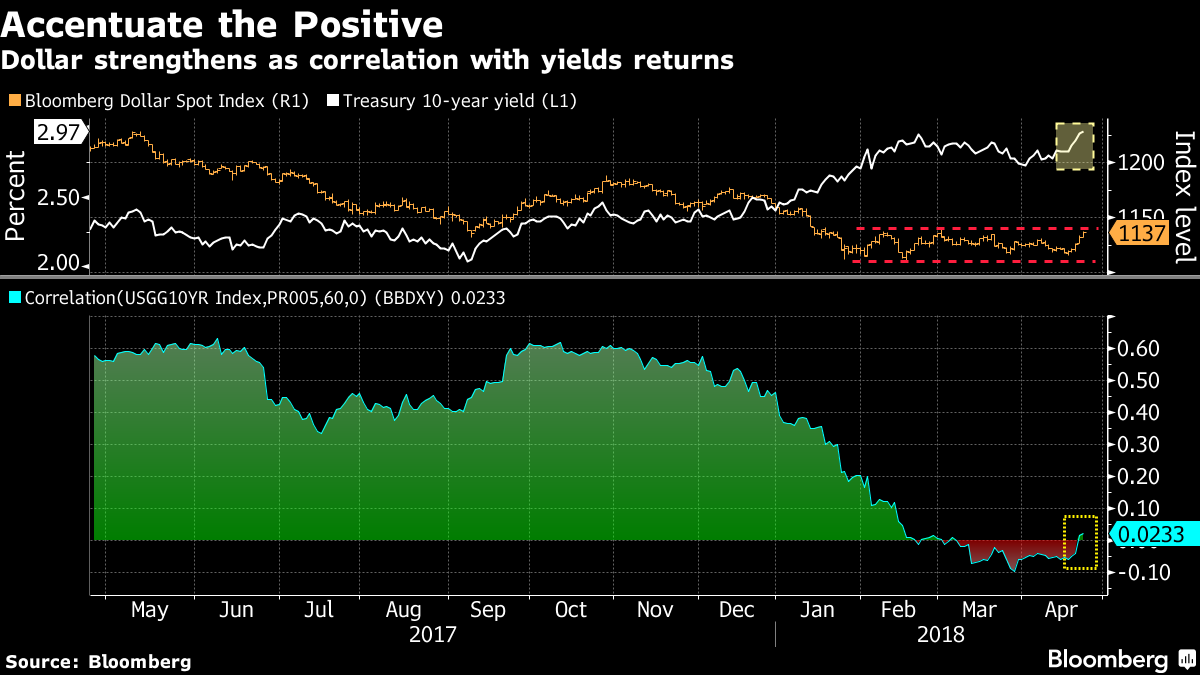 Semiconductor stocks continued their slide from last week as another chipmaker reported
weak earnings. The Philadelphia Stock Exchange Semiconductor Index fell 1.3 percent Monday, extending its four-day slide past 6 percent.
The 60-day correlation between the Bloomberg Dollar Spot Index and benchmark Treasury 10-year yields has turned positive again, after dipping into negative territory during the past few months for the first time since 2016.
"The entire market is watching that rates move and if we manage to break and extend higher the dollar will follow," wrote Brad Bechtel, global head of FX at Jefferies, in a note Monday. "If we fail and resume lower again the dollar will likely follow that too."
Elsewhere, aluminum plunged as much as 9.4 percent after the U.S. Treasury said it would provide sanctions relief to Rusal if Oleg Deripaska relinquished control, according to statement on Monday. It also extended the deadline for companies to wind down dealings with the Russian aluminum producer by almost five months.
These are some important events coming up
this week:
French President Emmanuel Macron begins a three-day visit to the U.S. Monday
U.S. GDP and jobless claims.
Earnings season continues. Among those reporting:

Alphabet/Google,

Amazon.com,

Samsung and

Credit Suisse.
The European Central Bank has a rate decision on Thursday. Investors will watch for any sign that officials are preparing a shift in stimulus plans for their June meeting.
Bank of Japan announces its latest policy decision Friday and releases a quarterly outlook report.
Terminal users can read more in our markets live blog.
And these are the main moves in markets:
Stocks
The S&P 500 Index was little changed at 2,670.29 as of 4:06 p.m. New York time, while the Dow Jones Industrial Average dropped 0.1 percent and the Nasdaq Composite Index slumped 0.3 percent.
The Stoxx Europe 600 Index rose 0.4 percent and the MSCI Asia Pacific Index fell 0.9 percent.
The U.K.'s FTSE 100 Index gained 0.4 percent.
The MSCI Emerging Market Index dropped 1.2 percent, touching the lowest in almost three weeks.
Currencies
The Bloomberg Dollar Spot Index rose 0.8 percent, reaching the highest in almost 14 weeks on its fifth straight advance.
The euro weakened 0.7 percent to $1.2208, dropping to the weakest in almost eight weeks.
The British pound dropped 0.4 percent to $1.3943.
The Japanese yen sank 1 percent to 108.72 per dollar, touching the weakest level in 10 weeks.
Bonds
The yield on 10-year Treasuries rose one basis points to 2.97 percent, after reaching the highest in more than four years.
Germany's 10-year yield increased five basis points to 0.63 percent, the highest in six weeks.
Britain's 10-year yield climbed six basis points to 1.54 percent.
Commodities
West Texas Intermediate crude rose 0.9 percent to $69.02 a barrel.
Gold dropped 0.9 percent to $1,324.20 an ounce, after reaching the least in more than three weeks.