Investors can't seem to make up their minds about L Brands Inc.
Shares of the corporate parent of Victoria's Secret and Bath & Body Works have swung between steep losses and robust gains in the past year as the company tries to stage a turnaround for the lingerie mega-chain.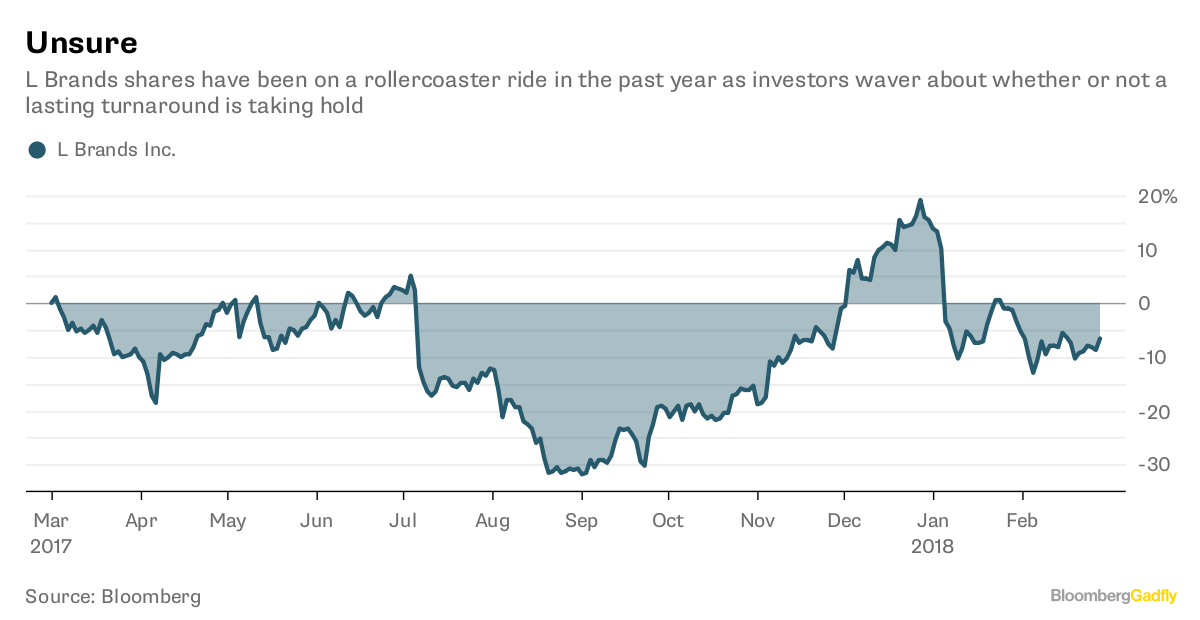 On Thursday, L Brands stock was bruised yet again after it reported disappointing fourth-quarter results. The company said comparable sales fell 1 percent from a year earlier at Victoria's Secret, and the picture was even more grim if you exclude e-commerce: At the brand's brick-and-mortar stores alone, comparable sales declined 6 percent over the same period last year.
I understand why some investors have lost their patience. Retail overall had a strong holiday season, with industry sales up 5.5 percent over the previous year. So we know consumers have been out spending in full force in recent months — they just weren't doing it at Victoria's Secret.
But there's still reason to believe L Brands can get on steadier footing this year.
For one, the right changes are taking hold in the core bra business at Victoria's Secret. The company said comparable sales increased in the quarter for "constructed bras," the undergarments that provide more support and shape than the bralettes that have been trendy of late. Average unit retail for bras also increased in the quarter, a hint shoppers were willing to shell out for pricier styles.
Meanwhile, Victoria's Secret has made some headway in the beauty category. The company reported this part of the business saw "mid-single-digit" comparable sales growth in the quarter and fatter merchandise margin.
That suggests Victoria's Secret is grabbing market share in an area that has been a real bright spot for the wider retail industry.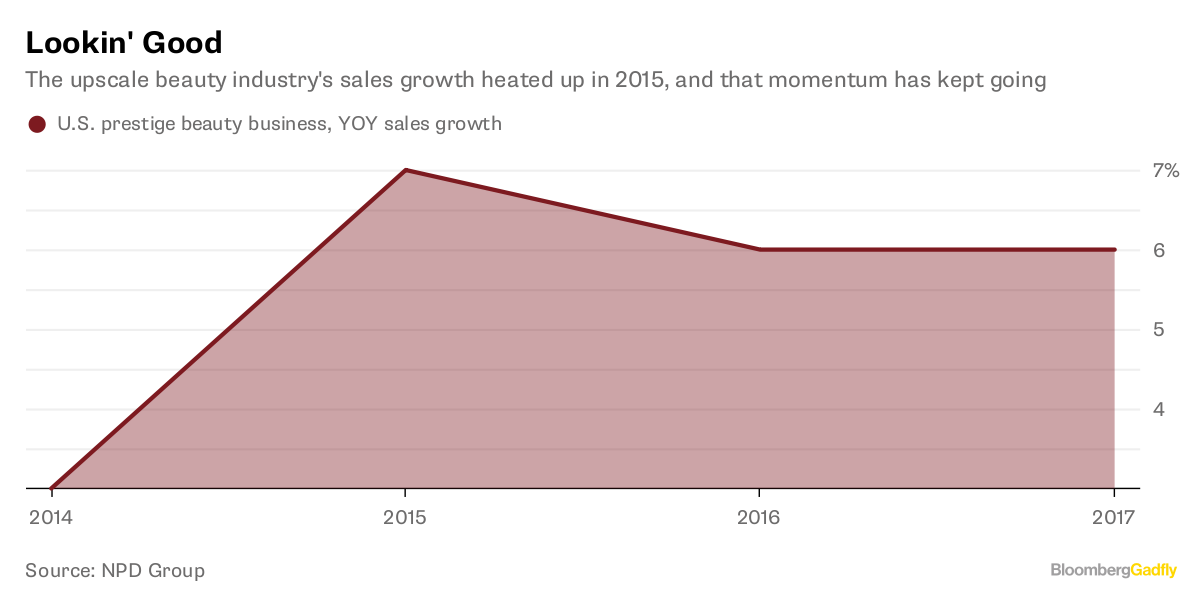 It's also worth mentioning that, for all of Victoria's Secret's challenges, the second-largest component of the L Brands empire, Bath & Body Works, is in good shape.
Bath & Body Works accounted for just 28.4 percent of L Brands revenue in 2017, significantly less than Victoria's Secret's 58.5 percent. But its comparable sales grew 5 percent, cushioning the blow caused by the lingerie chain's struggles.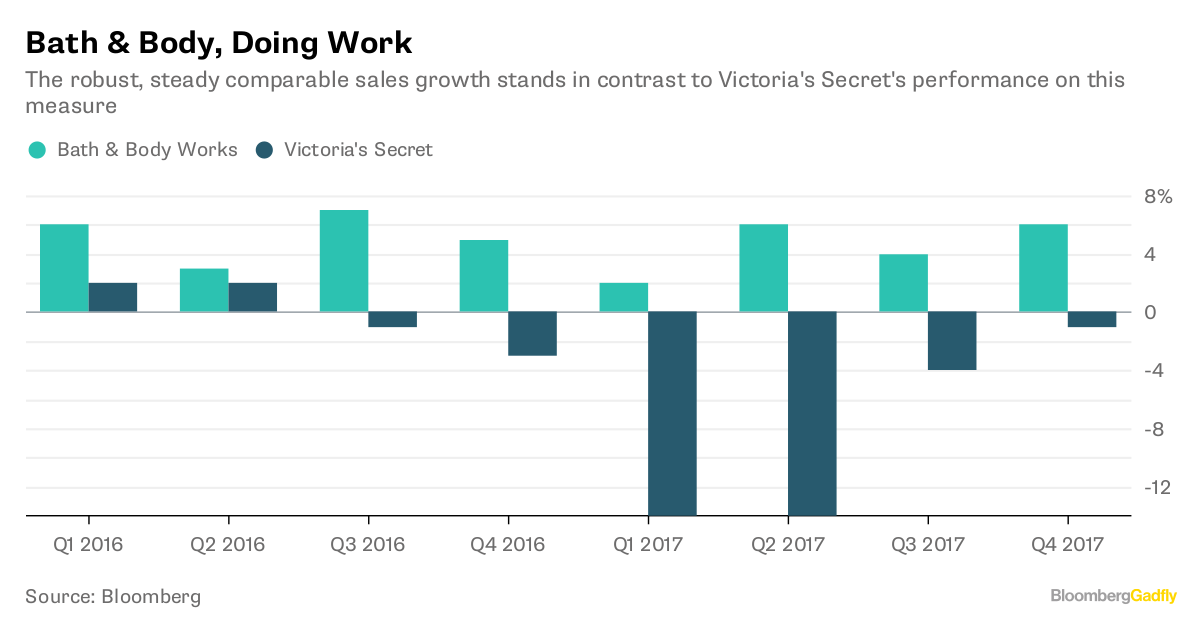 Finally, some investors probably aren't thrilled about the hit to earnings that will come from the company's plan to invest $100 million in wage increases and benefits this year.
But it is undoubtedly the right thing to do. Strong, consultative customer service and offerings such as bra fittings are a powerful differentiator for Victoria's Secret, as Amazon.com Inc. and digital-centric startups encroach on its lingerie turf. 
If it wants to build its reputation for authoritative service, it's going to need to attract and retain the best talent. As major retailers such as Walmart Inc., Target Corp. and Starbucks Corp. have moved recently to offer their workers more, it only makes sense that L Brands must do the same. 
One suggestion for L Brands executives as they try to get investors to take a long view of the company's prospects: Stop reporting revenue and comparable sales figures on a monthly basis.
I can't think of any major retailer that provides such frequent reports; McDonald's Corp. stopped doing so in 2015 and Gap Inc. stopped in 2017. The practice encourages hand-wringing about a pretty tiny snapshot of how the business is doing.
Maybe investors would give L Brands more credit if they weren't fixated on such incremental movements. 
This column does not necessarily reflect the opinion of Bloomberg LP and its owners.
To contact the editor responsible for this story:
Mark Gongloff at mgongloff1@bloomberg.net