AT&T Inc. and Time Warner Inc. may need each other more than ever.
Sales and earnings at AT&T missed analysts' estimates last quarter, putting extra pressure on the company to complete its much-delayed $85 billion
takeover of the media giant and diversify its business. Shares of AT&T fell as much as 4.5 percent in early trading on Thursday.
Time Warner also reported results, revealing its own challenges: Operating income declined, dragged down in part by the high cost of programming — a problem that a deep-pocketed buyer may be able to help with. AT&T has been waging a courtroom battle with antitrust regulators to get the deal cleared, and it hopes to prevail soon.
"We optimistically await conclusion of our Time Warner court case," AT&T Chief Financial Officer John Stephens said on a call with investors Wednesday.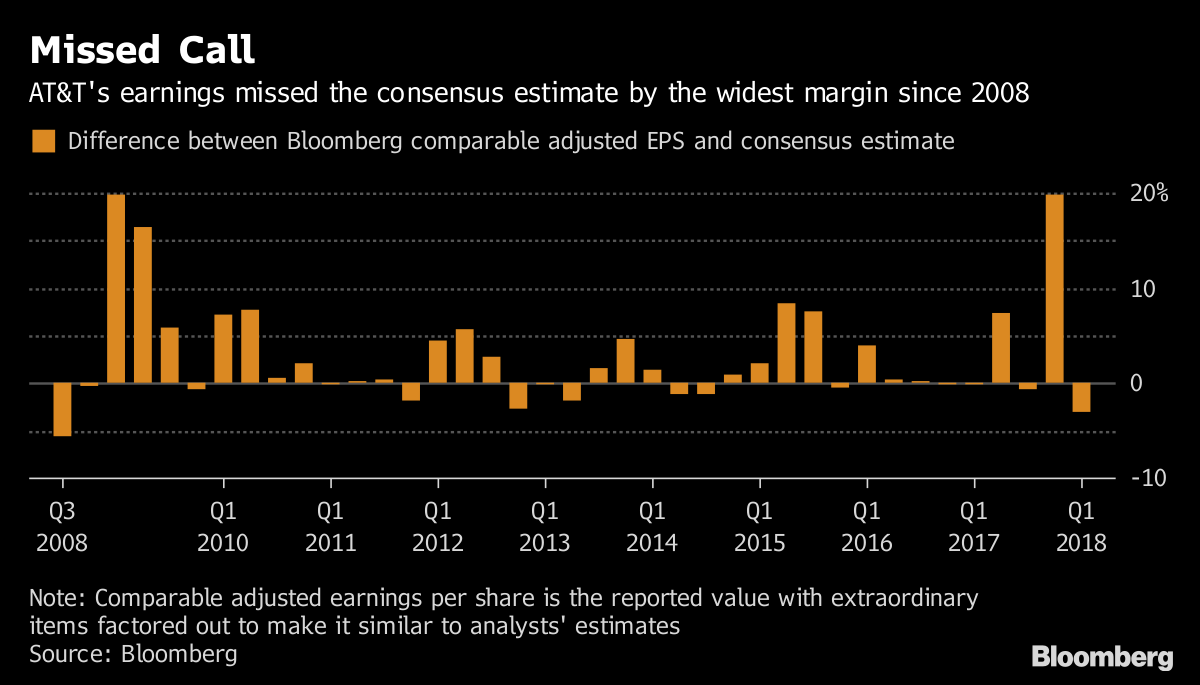 AT&T earnings
amounted to 85 cents a share last quarter, excluding some items. That fell short of the average prediction of 88 cents.
The weak results stemmed from the loss of lucrative, high-paying subscribers — such as DirecTV satellite customers — and a shift toward users who pay less for fewer TV channels over the internet. Sales for AT&T's entertainment group slumped 8 percent from a year earlier — a $1 billion loss of revenue.
To fight the loss of pay-TV customers, AT&T is exploring "differentiated" online TV programming packages to reach more customers who are looking for alternatives to the so-called big bundle, Stephens said. Its DirecTV Now online package starts at $35 a month for 60-plus channels.
Losing Grip
The results threaten to renew concerns that AT&T's grip on mobile-phone and TV customers is slipping — a deterioration that the purchase of

Time Warner is meant to address. AT&T is in the sixth week of a courtroom fight defending the deal, which U.S. antitrust officials sued to block because it may increase TV prices for consumers. The defense has
picked apart the Justice Department's case, making it look increasingly likely that the transaction will be completed.
If AT&T wins its case, it will hand Chief Executive Officer Randall Stephenson control of some of the most popular programming in the world, including TV shows and movies from HBO, CNN, TNT and the Warner Bros. studio.
AT&T's subscriber figures were a mixed bag last quarter, but the company continues to lose the kind of customers that once formed its base. It shed 22,000 phone subscribers, while gaining 49,000 new tablet, smartwatch and Wi-Fi hot-spot customers.
TV Subscribers
On the TV front, AT&T lost 187,000 conventional pay-TV customers. But the addition of 312,000 customers for DirecTV Now, its online streaming service, gave the Dallas-based company a total of 125,000 new video customers in the first quarter.
Sales fell 3.4 percent to $38 billion. Excluding accounting changes in the first quarter, comparable revenue would have been $38.9 billion, which is below the $39.4 billion average that analysts projected.
"We believe the fundamentals this quarter show the competitive pressure AT&T is facing in each of its consumer segments," Jennifer Fritzsche, an analyst with Wells Fargo Securities LLC, said in a note.
The shares fell as low as $33.61 in early trading on Thursday. Even before the dip, they were down 9.5 percent this year.
The results
follow stronger-than-expected subscriber growth at rival

Verizon Communications Inc. In that case, the New York-based company offset shrinking mobile-phone subscriber rolls with more customers using wireless for smartwatches and cars.
Verizon has made its own attempts to diversify, including new ventures such as Oath, the media and advertising division that owns AOL and Yahoo's web business.
— With assistance by Brandon Kochkodin