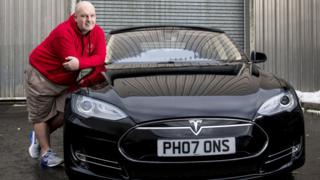 Glasgow's Riverside Museum has been gifted a Tesla to showcase alongside its alternative fuel vehicles.
The Model S P85+ electric car was gifted to the popular visitor attraction by Chris Clarkson.
It will form part of a display which reflects advances in technology and explore the development of more environmentally friendly vehicles.
The car will be prepared for storage, before it goes on display at Riverside Museum in 2019.
Glasgow Museums confirmed it will form part of the city's James Watt Bicentennial celebrations.
Mr Clarkson, from Strathaven, said: 'I'm pleased to have donated the Tesla, my family have really enjoyed our time with this incredible machine and it's exciting to see a car of the future now take up its place in history.
"I loved visiting the Transport Museum and the People's Palace as a youngster and today I enjoy taking my own children to both museums.
"They do a wonderful job of using interesting objects to tell important stories, such as the dangers of climate change and why we need to develop more environmentally friendly, fuel efficient vehicles."
'Very special'
Councillor David McDonald, chairman of Glasgow Life, praised Mr Clarkson's generosity.
He added: "This car is a very special object.
"Clearly it has benefited from Chris's careful ownership and his experiences, but more than that it is a pioneer representing a new dawn in electric vehicle development.
"In 2019 this stunning and technologically important car will be the centre piece of an exhibition celebrating one of Scotland's greatest inventors, James Watt."
The Tesla is believed to be the first acquired by a public museum in Scotland.
The Model S has a raft of innovative features, not least the ability to drive 242 miles on one charge at a cost of about £9.
It can reach 0-60mph in four seconds, be controlled from the owner's smart phone and convert from a five to a seven seater family car.
Mr Clarkson, who runs a web-based travel agency, purchased the black saloon car at the first opportunity in 2013.
But he had to wait until September 2014 for it to be transported to Scotland from Tilburg, Holland.