Let's get this out of the way: No, Facebook Inc. hasn't felt an immediate financial sting from the latest controversies over how it collects and protects people's information. But that doesn't mean the company is free from danger.
Facebook's first-quarter revenue rose 49 percent, an acceleration of the company's pace of growth from the prior two quarters, the company said Wednesday. And Facebook delivered a 45.5 percent operating profit margin, which was lower than its recent performance but still impressive in light of a significant increase in spending. Growth also accelerated in the average revenue Facebook generates from each user. 
This is the pattern that has made Facebook — at least until recently — an investor favorite. It is incredibly savvy about squeezing high-margin dollars from its audience of billions of users. The scandal over the user data harvested by Cambridge Analytica, or the string of privacy or misinformation scandals before that, won't erode Facebook's magic overnight.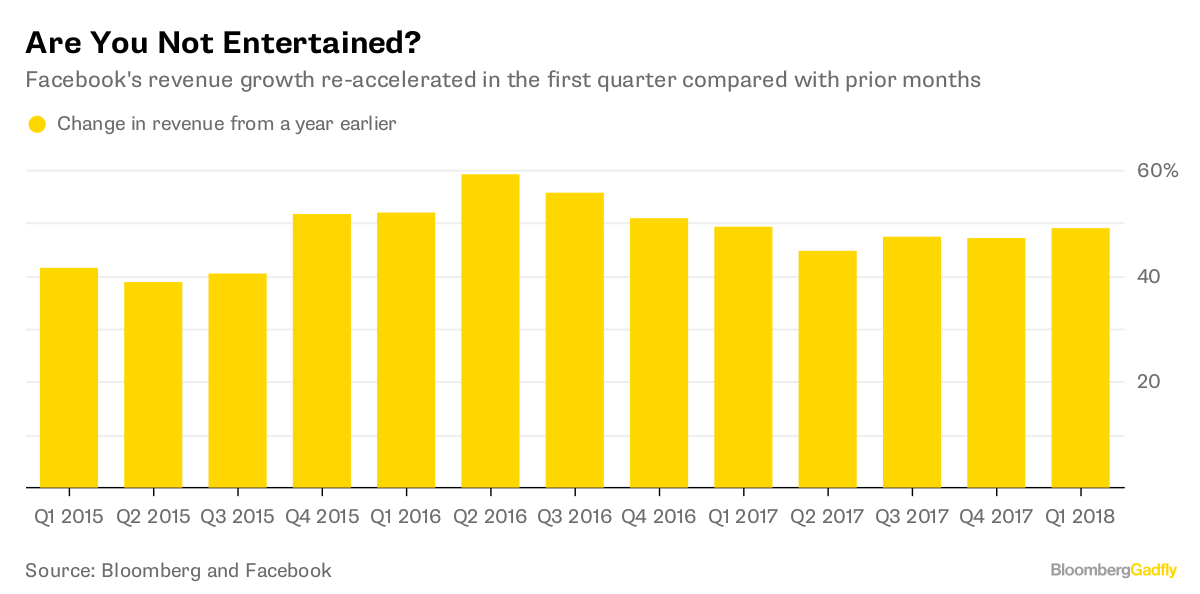 One problem, though, is that the foundation of Facebook's business model has come under question. That doesn't appear to be an immediate risk, but there is a real threat that regulation or popular pressure could crimp its data-reliant business. On a conference call with analysts on Wednesday, CEO Mark Zuckerberg and COO Sheryl Sandberg both defended Facebook's advertising-based business model. It would have been impossible to imagine a few months ago that Facebook's top executives would feel the need to justify how the company makes money.  
A more immediate and concrete worry is the signal that Facebook isn't as much of a draw as it used to be. For the third consecutive quarter, the company posted an all-time low rate of increase in the number of people who log into the social network at least once a day. The number of daily users rose 12.9 percent in the first quarter from a year earlier. That's large for Facebook's scale, but the growth rate had been 17 percent to 18 percent as recently as the middle of 2017. (Facebook also said the number of daily users in Europe might plateau or decrease in coming months because of tightened privacy regulations.)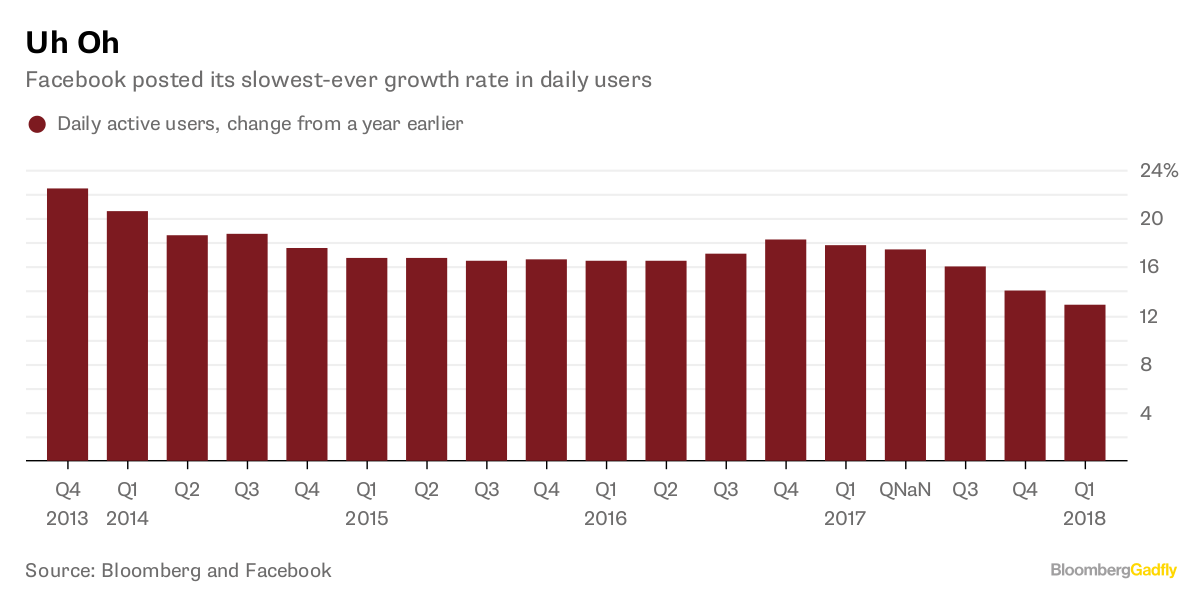 Facebook did manage to increase slightly the number of daily users in the U.S. and Canada, its most valuable audience for the advertising business. Last quarter, investors panicked about a slight decline in this figure, but Facebook said it was a temporary lull. It looks for now as if Facebook was right. 
Despite now having 2.2 billion users each month, Facebook has never had trouble luring ever more people to its digital hangout, and convincing them to stay even longer. But it seems to be getting tougher, and it's not clear how much of that is by the company's design and how much because people don't want to be on Facebook. The company has in the past disclosed the average time Facebook users spend daily on the social network and other company hangouts. Pressed on Wednesday to update this figure, Facebook executives demurred but did say that the amount of time people spent passively watching videos on Facebook had decreased. 
harder-to-define goal of "time well spent." But it's also possible that some people are less inclined to use Facebook because they view it as a cesspool of human interaction, they don't find it as useful or informative anymore or because they feel as if they should hate it given all the attention around the company's missteps.
The good news is that the many storms raging around Facebook have lowered expectations a bit, and investors' first reaction to Facebook's earnings was a sigh of relief. Shares jumped about 6 percent in after-hours trading on Wednesday. Facebook has weathered its storms well so far. There is enough evidence in its user growth figures to worry that the company may not have a revenue problem yet, but it could have a popularity problem. 
To contact the editor responsible for this story:






Daniel Niemi at dniemi1@bloomberg.net