General Electric Co. is making progress on its reinvention, but Moody's Investors Service Inc. just provided an important reality check.
The credit-rating company on Wednesday said it now has a negative outlook on GE's A2 status, and lowered the stand-alone credit profile for GE Capital to Ba1, one step below investment grade. The move knocked GE shares down more than 4 percent, erasing the gains from last Friday after the company reported better-than-expected results and maintained its 2018 outlook. The relief rally was understandable, but the jubilation looked a bit premature and Moody's action this week is a reminder of why.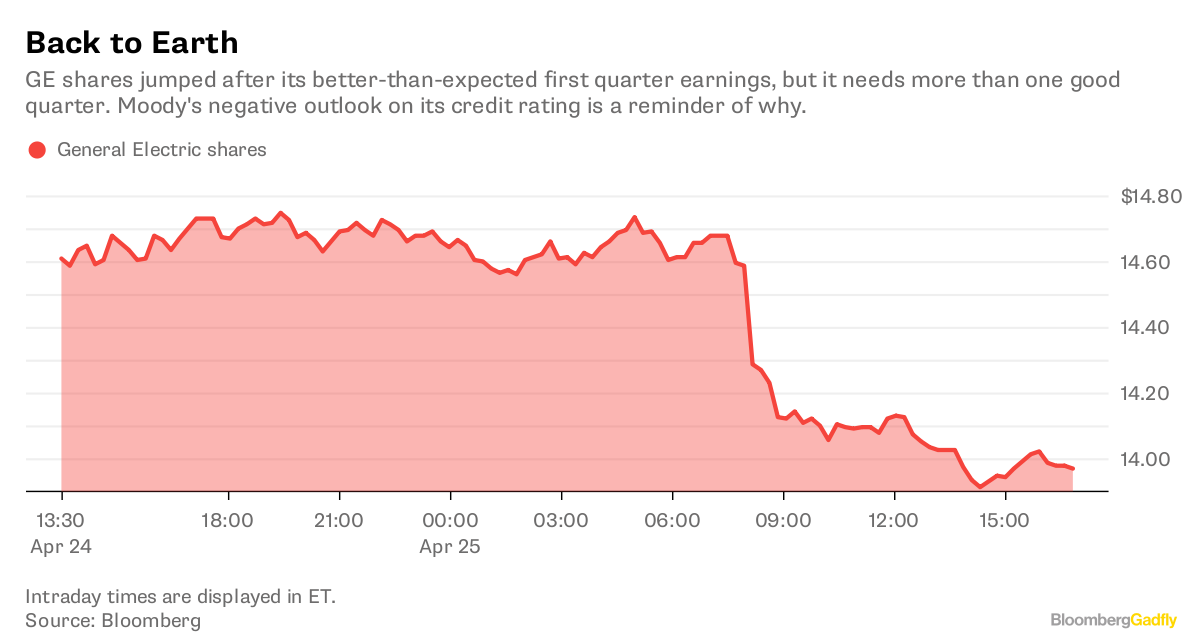 The lowered credit-rating outlook came as GE hosted its annual shareholder meeting in Imperial, Pennsylvania, just outside of Pittsburgh. Retirees criticized GE for rolling back benefits, blasted the billions spent on share buybacks and spoke their mind on the damage done to investors' trust. About 65 percent of participating holders supported keeping KPMG as GE's auditor, compared with more than 95 percent last year. That's a meaningful change and may reflect Institutional Shareholder Services Inc. and Glass Lewis & Co.'s recommendations to oust KPMG and an eagerness for fresh eyes.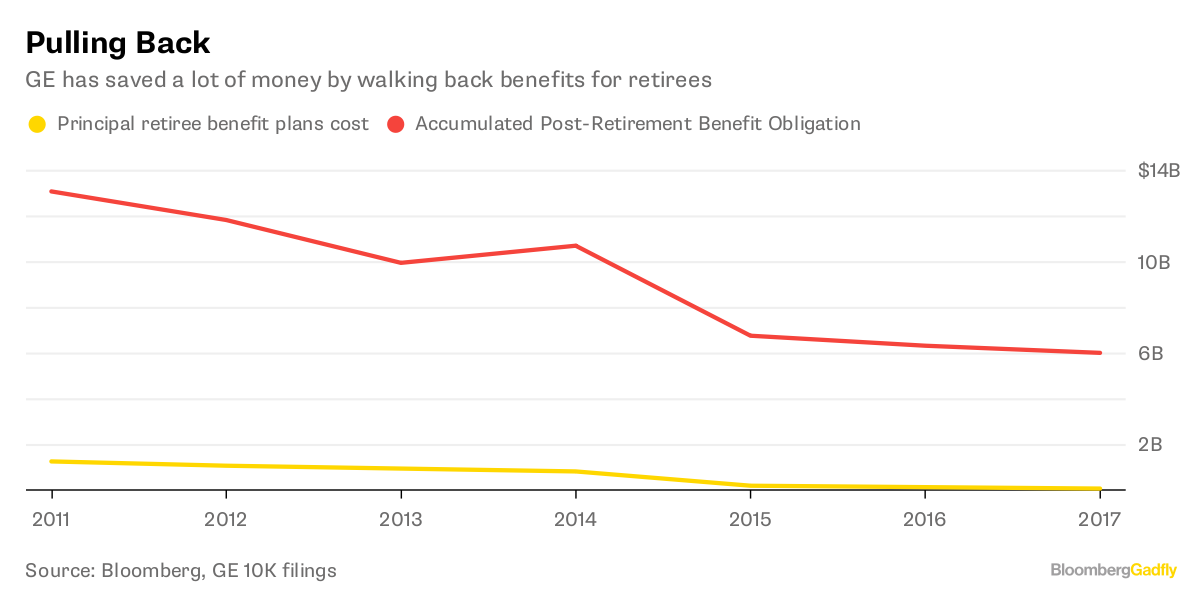 The official reason Moody's gave for the lowered outlook on GE's credit rating was the disclosure that it would reserve $1.5 billion for a potential settlement with regulators over allegations that its legacy WMC mortgage business violated the Financial Institutions Reform, Recovery, and Enforcement Act. But that seems like just the straw that broke the camel's back.
The $1.5 billion reserve adds to obligations at a time when capital adequacy at the finance arm, which GE supports through some debt guarantees, is already "severely weakened," Moody's said. GE in January disclosed a $15 billion reserve shortfall at a legacy insurance unit and took a $7.5 billion after-tax charge. The company's debt burden "remains very high," Moody's said.
was underscored by GE's recent earnings restatements, which were the result of an accounting change but inflated the optics of 2017 leverage. The adjustments also call attention to the high growth hurdle GE will have to clear to meet its 2018 goal of $1 to $1.07 in adjusted EPS. The company has already said profit in its troubled power unit will be flat this year versus 2017, meaning it will likely have to rely on a perfect showing in its aviation and health-care units and superhuman cost-cutting efforts to meet that target.
"The first quarter was a good start to executing on this plan and our goals for 2018," GE said in response to Moody's negative outlook. " We continue to have a sound liquidity position, including cash and operating credit lines."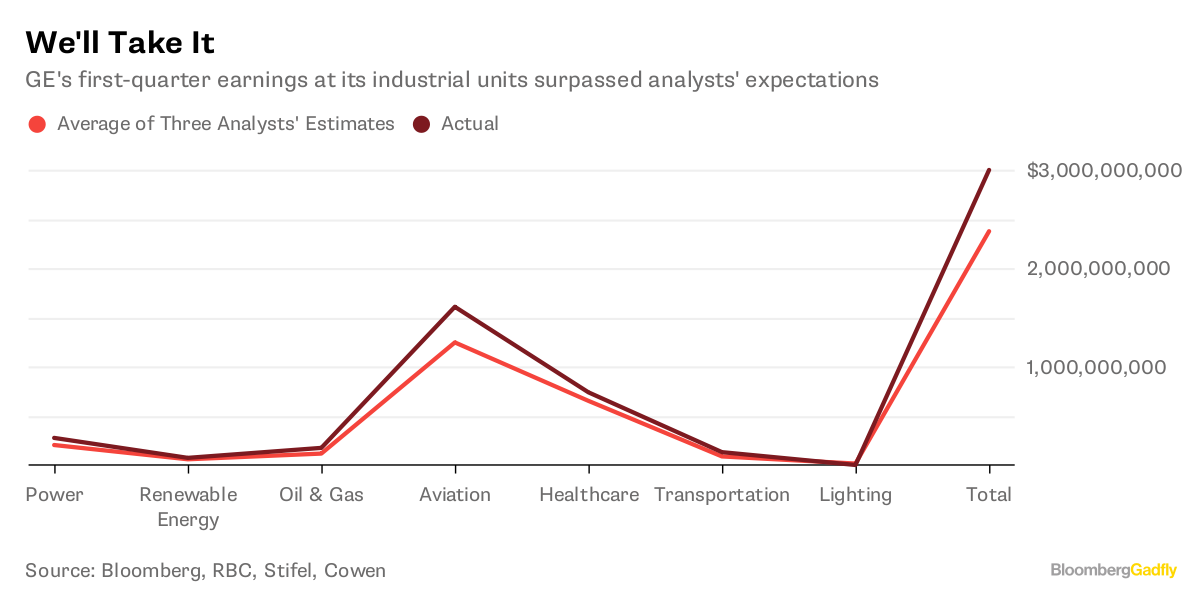 Earlier this month, prior to the restatements, Moody's lowered its estimate of GE's 2018 Ebita margin to 14.1 percent, implying no improvement from last year, and projected a debt-to-Ebitda ratio of 3.9 for this year. It's said GE ratings could be downgraded in the absence of progress toward leverage of 2.5 times; obviously, there is a ways to go. Of note from that April 12 report was Moody's call for a commitment from GE to direct the proceeds from its targeted $20 billion in asset sales to repaying debt. This reinforces how hard it will be for the company to use that money for things like acquisitions or investments in its businesses. 
What this all comes back to is a potential breakup of GE. There is little strategic reason to keep its myriad businesses latched together; arguably, given the seeming limits of the company's financial flexibility in the near term, there is strong strategic reason for separating them. This will be a complicated process and will require divvying up significant pension obligations, not to mention a rethinking of GE's go-forward cash-flow profile and capital allocation priorities. But perhaps it's the best way forward.