KKR & Co. will convert to a corporation from a partnership, seeking to capitalize on tax reforms enacted by the Trump administration and win more mutual fund and ETF investors. The shares surged.
The new structure will take effect July 1, New York-based KKR said in a
statement announcing first-quarter earnings Thursday. The firm expects to pay an annualized dividend of 50 cents per common share in the third quarter and immediately increased its share buyback program to $500 million.
KKR rose as much as 8.3 percent in New York, the most since June 2017.
The Republican tax law slashed the corporate rate to 21 percent from 35 percent, spurring private equity managers to evaluate shifting to a regular corporation, known as a C-corp. The
change enables such firms to be included in indexes, potentially boosting stock valuations and mutual fund ownership. It also allows for more transparency in financial reporting.
"KKR's conversion from a partnership to a corporation is designed to broaden our investor base, simplify our structure and make it easier to invest in our shares," co-founders and firm leaders
Henry Kravis and
George Roberts, said in a statement.


Ares Management said last quarter that it would convert as of March 1, becoming the first major U.S. asset manager to do so. Alternative asset firms that derive a larger share of revenue from management fees may have more incentive to switch, according to Paul Gulberg, a Bloomberg Intelligence analyst.
Among the incentives KKR cited were increased access to capital markets and the ability to use stock as "attractive currency" for mergers and acquisitions, according to the company. As a publicly traded partnership, the firm's institutional ownership is lower and "we are largely irrelevant to index funds and ETFs in an environment where investor flows have been moving towards passive strategies."
"We think that by converting to a C-corp this could open the door for nearly seven times the current investor base," said Andrew Disdier, an analyst at Sandler O'Neill.
In the first quarter, KKR felt the impact of global stock market volatility. In private equity, performance fees slid to $61.3 million from $329.7 million. The value of the private equity portfolio gained 0.4 percent in the quarter, the company said.
Overall, companywide performance fees plummeted 69 percent to $107 million from the same period a year earlier.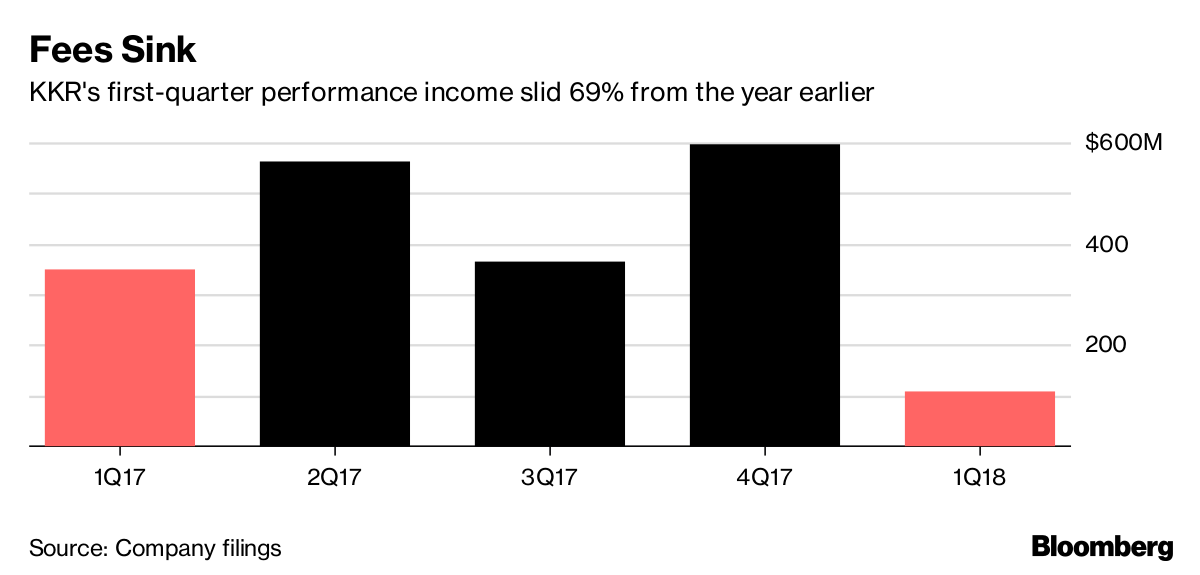 Economic net income, which reflects both unrealized and realized marks for investments, fell to $364.7 million, or 42 cents a share, from $549.9 million, or 65 cents, a year earlier. The results beat analysts' estimate of 11 cents.

For more on KKR's quarterly performance click here
KKR posted an increase in performance fees for public-markets investments from a year earlier. But its biggest balance sheet investment,

First Data Corp., declined in the quarter. The payment processing company fell 4.3 percent in the period. It has since recovered, gaining 8.3 percent this year through Wednesday.
KKR continued to expand its assets under management to $190 billion, which includes its deal with FS Investments that closed in April. That's a 38 percent gain over the year earlier.
— With assistance by Felice Maranz, and Heather Perlberg
(Adds share gain in first and seventh paragraphs.)