Until Shire PLC makes up its mind about Takeda Pharmaceutical Co. Ltd.'s umpteenth takeover bid, Sanofi is this year's pharma M&A champion with its combined $15 billion purchases of Ablynx NV and Bioverativ Inc.
I've been critical of those deals; Sanofi paid high premiums at the market's peak in January. 
But Sanofi's first-quarter earnings release on Friday cast them in a slightly more forgiving light – when your business is struggling this badly, even acquisitions with a tinge of desperation seem more justifiable.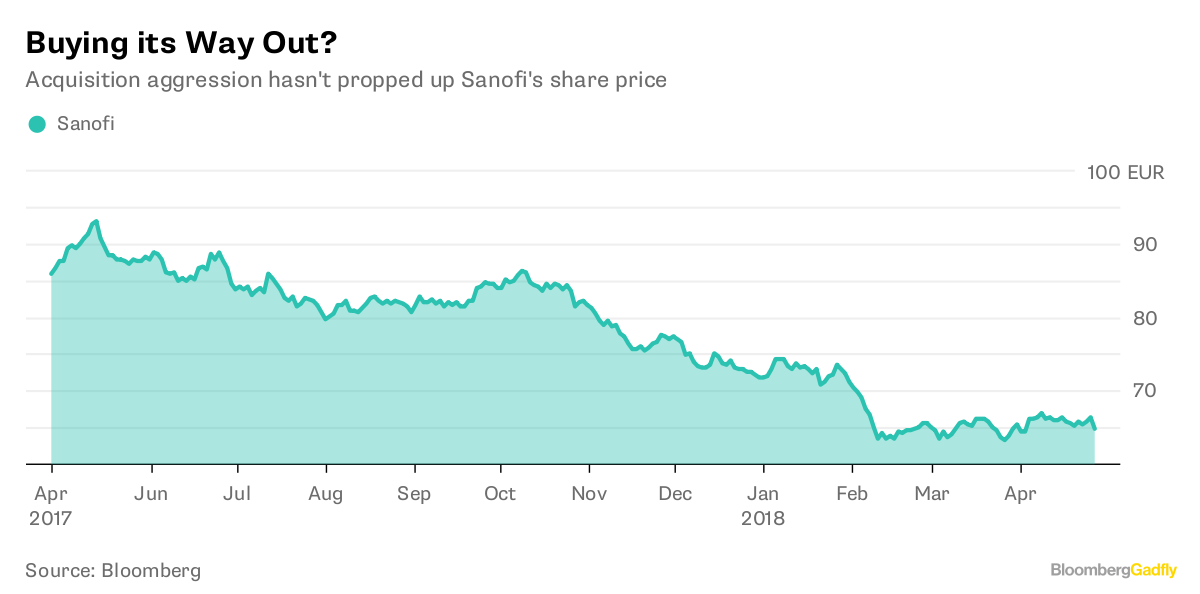 Sales of Sanofi's best-selling insulin Lantus fell 25 percent in the quarter from a year earlier. Its multiple sclerosis medicines missed analyst sales expectations, and that market is only going to get worse in the year to come.
Dupixent, an inflammation medicine expected to be Sanofi's biggest growth driver over the next few years, was the  biggest disappointment. It badly missed expectations, suggesting it is running into reimbursement problems. Without surprise good performances from older medicines Lovenox and Plavix, things would have been even worse.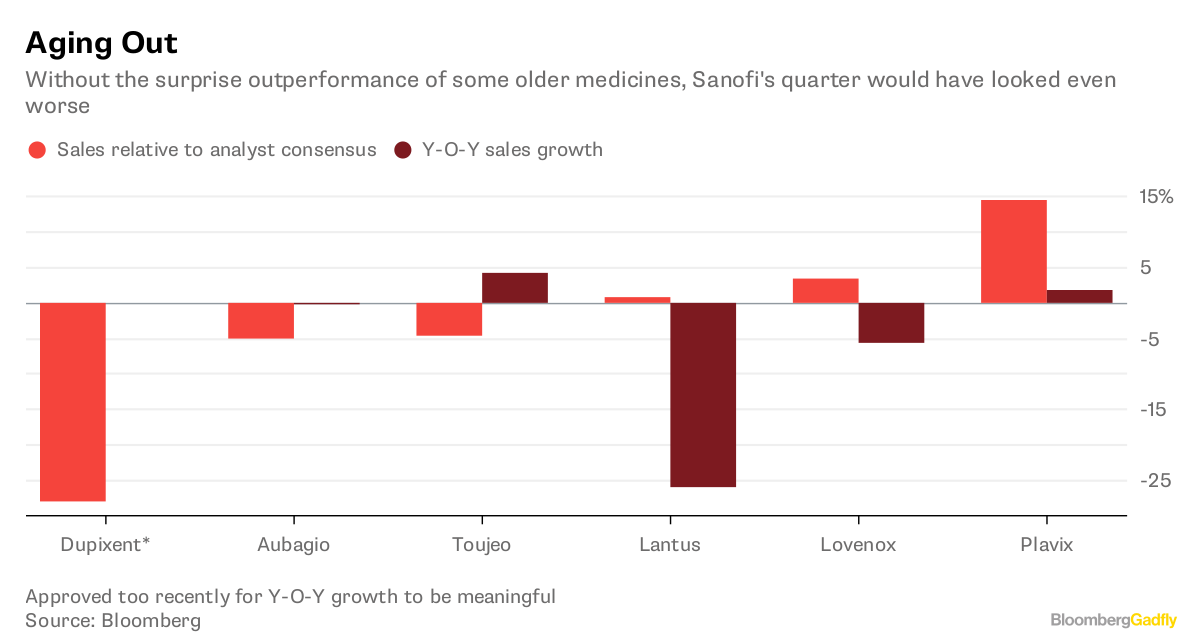 All in all, sales at Sanofi's pharmaceutical unit fell 2.1 percent from the same period last year, with an unhelpful hand from currency trends. Vaccine-unit sales fell 9.3 percent.
So Sanofi clearly needs reinforcements. The hemophilia medicines acquired in the Bioverativ deal – Alprolix and Eloctate – contributed €64 million in sales in the three weeks of the first quarter Sanofi owned them. They'll likely be a bigger contributor for the rest of the year; sales of the medicines grew 12 and 24 percent, respectively, on a pro-forma basis. 
Ablynx NV is a longer-term bet; even its lead medicine may not be a significant contributor until next year. But it's a needed supplement to Sanofi's otherwise scant roster of late-stage drug assets. 
None of this is to say Sanofi shouldn't have been a more careful steward of its capital. Companies facing  growth challenges get fewer chances to make mistakes, and feel the consequences of over-paying more acutely. 
But an expensive bandage still stops bleeding, and price pain will fade if Sanofi's sales finally bottom out and these acquisitions can bring back growth.
To contact the editor responsible for this story:






Mark Gongloff at mgongloff1@bloomberg.net