Qualcomm Inc. needs to start working on a plan B more exciting than share buybacks.
is pushing back on Qualcomm's proposed $45 billion-plus purchase of NXP Semiconductors NV, forcing the chipmaker to refile its request for approval. The deal process is now in its 18th month; put a different way, the NXP takeover was announced before Donald Trump became president. The longer this drags out, the barer Qualcomm looks as it contends with a shareholder base frustrated at its handling of a $100 billion-plus takeover bid from Broadcom Inc. that was ultimately blocked by U.S. national security regulators.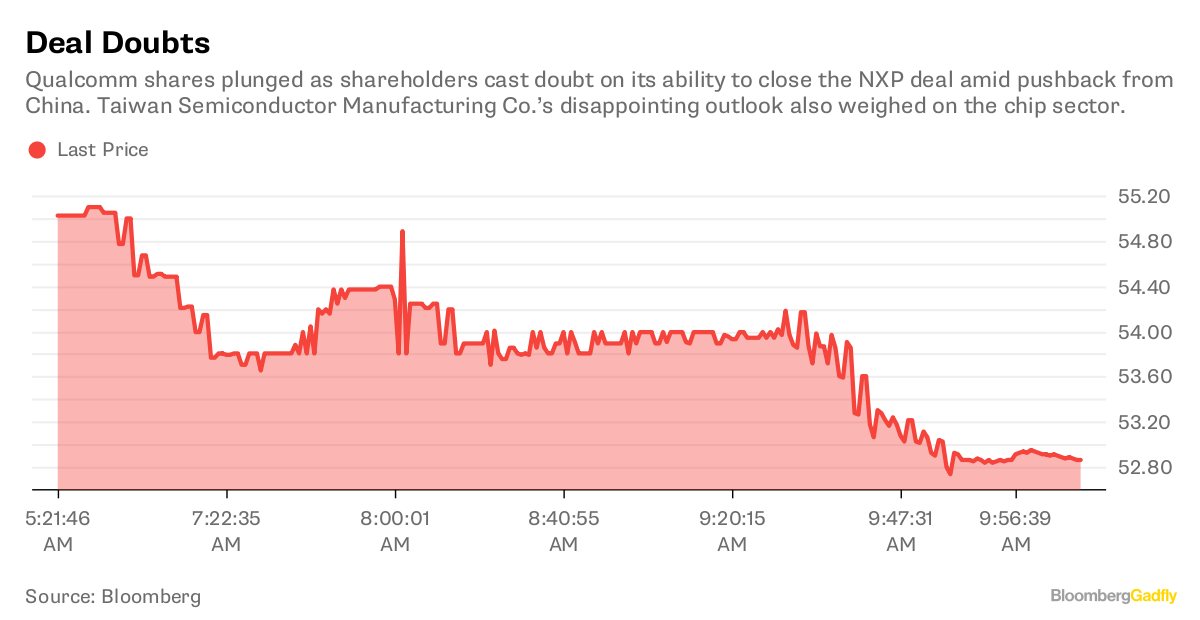 The only alternative Qualcomm has articulated for an NXP deal is a share buyback. The obvious flaw in that plan is that such financial engineering doesn't offer the strategic benefits that would come from a deal. An NXP acquisition would add semiconductors for cars and industrial technologies to Qualcomm's portfolio, helping to break its dependence on the smartphone industry as its market share and lucrative royalty stream are attacked by regulators and customers including Apple Inc. A massive share repurchase isn't going to satiate investors in the same way, especially in light of the $2 billion breakup fee Qualcomm has to pay NXP if it can't get regulatory signoff by July 25.
China knows this, and that leverage can work to its advantage as it contemplates how to counter a trade fight started by Trump and fields pushback from local companies worried the merger will hamstring their ability to challenge Qualcomm's dominance. Qualcomm previously estimated that the NXP deal would add about $1.50 to its fiscal 2019 earnings per share, a vital component in its already much-doubted goal of achieving $6.75 to $7.50 across the company that year. That's now in jeopardy as China seeks more concessions from Qualcomm, which could include a requirement to give more favorable licensing terms to local companies, or divestitures.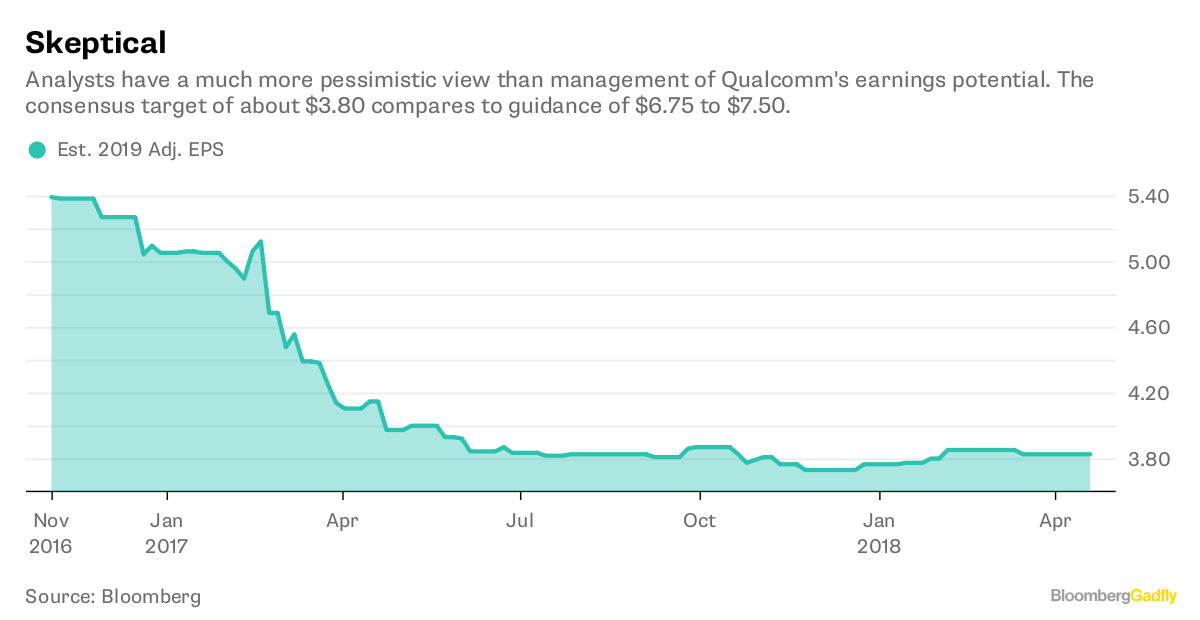 At this point, it's hard to see a way forward on NXP that doesn't end up making Qualcomm shareholders even madder. While Trump delivered the ax to the Broadcom deal, some investors blame Qualcomm for riling up nationalistic concerns over 5G technology and creating an opportunity for China to push back on the NXP merger. I'm not sure I buy that, in large part because I don't think the Trump administration needed any nudging to go on the offensive against China. But there are plenty of other flaws in Qualcomm's strategy and business model for an activist investor to probe, and odds are one shows up sooner rather than later.
Qualcomm's current board was re-elected at its annual meeting, but that's largely because they were unopposed. Trump, acting on the recommendation of the Committee on Foreign Investment in the U.S., said Broadcom's candidates in its attempted proxy fight were disqualified from standing for election. (And then there's ex-chairman Paul Jacobs, who stepped down as he decided to pursue a half-baked buyout idea.)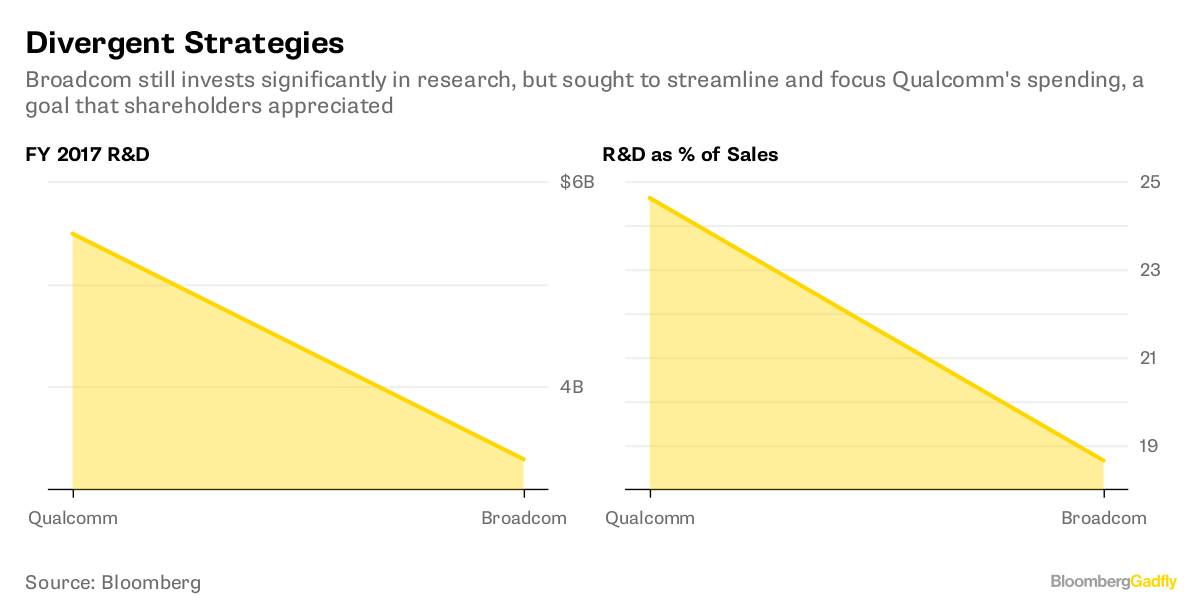 Qualcomm is taking a more rational approach to its spending with job cuts and a pledge to whittle $1 billion in costs. Back when Qualcomm was contemplating the NXP deal in 2016, people familiar with the matter said it was weighing the deal against four other acquisition options. It would be wise to start dusting off the pitchbooks on those alternative candidates. Nomura Instinet analyst Romit Shah has said Xilinx Inc., Analog Devices Inc., and Microchip Technology Inc. could be attractive targets for Qualcomm.
Of course, Qualcomm will be going into any alternative takeover $2 billion poorer should it have to pay the breakup fee for NXP. But sticking with the status quo or doing a buyback are not great options either.
To contact the editor responsible for this story:






Beth Williams at bewilliams@bloomberg.net