A surge in Canadian pride has helped fuel sales at


Roots Corp., the 45-year-old apparel brand known for evoking the Great White North.
The company, which sells leather goods and casual wear imprinted with beavers and maples,

posted a 15 percent increase in quarterly same-store sales — a rare achievement in the e-commerce era. Earnings also topped analysts' estimates, sending the shares on their biggest rally since they started trading in October.
Roots began selling more Canada-focused merchandise last year, when the country was celebrating its 150th anniversary. It's now offering Canada products year-round, rather than just around the Canada Day holiday on July 1.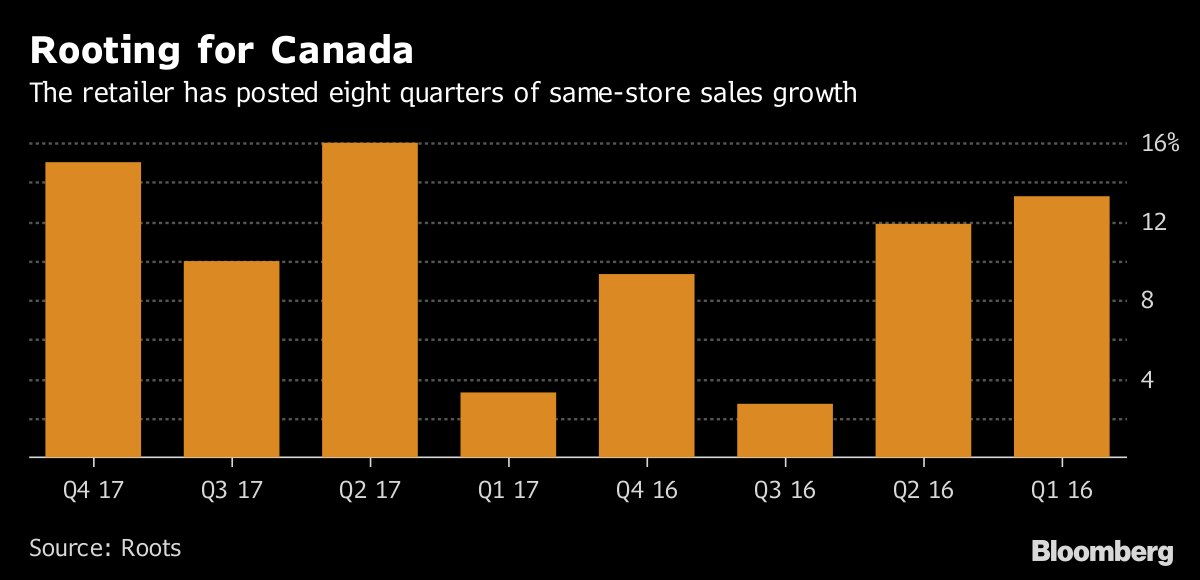 The Toronto-based company was started in 1973 by two American friends in love with the Canadian wilderness. Chief Executive Officer Jim Gabel, who joined in 2016, has set out to modernize the brand over the past two years — while preserving the spirit of its home country. The idea is to double the size of the business in Roots' domestic market while expanding south of the border and overseas.
"It certainly was lacking a professional management, but the founders did a remarkable job of creating an iconic brand with great products," Gabel said in an interview.
Roots now operates 119 stores directly in North America and another 142 through partnerships in China and Taiwan. It's planning two openings in the Boston region in June, part of a bid to add 10 to 14 locations in the U.S. by the end of fiscal 2019. That's up from just three now.
Rocky IPO
The improving sales figures are helping burnish the company's image after a rocky initial public offering in October. Roots tumbled 17 percent on its first day, marking

one of the worst debuts for a Canadian IPO above C$100 million ($79 million) last year.
Excluding some items, earnings amounted to 59 Canadian cents last quarter. That beat the 53-cent estimate. The shares gained as much as 11 percent to C$12.78.
Gabel has been cutting factory costs and refining the product lineup. A bigger push into shoes also has helped boost profitability because they carry higher margins. And he's relying less on promotions to drive sales.
"We think over the long turn, as people understand how we're unlocking the potential of this great brand and the company, that they'll respond accordingly with how they invest in our business," Gabel said.