Royal Bank of Canada, the nation's largest mortgage lender, isn't hurting from a slowing housing market — yet.
The Toronto-based bank reported 6.4 percent growth in Canadian residential mortgages in the fiscal first quarter, with average balances climbing to C$238.5 billion ($187.6 billion). That's down from the 6.6 percent growth rate in the fourth quarter, though it's still the second-best pace in seven quarters.
Royal Bank's home loans represent 15.7 percent of Canada's C$1.52 trillion mortgage market. Mortgage lending makes up a significant part of the firm's Canadian banking division, whose earnings rose 11 percent to C$1.48 billion from a year earlier when excluding gains from selling a payments business. Those contributions, along with gains in wealth management and capital markets, helped the bank post total profit that beat analysts' expectations.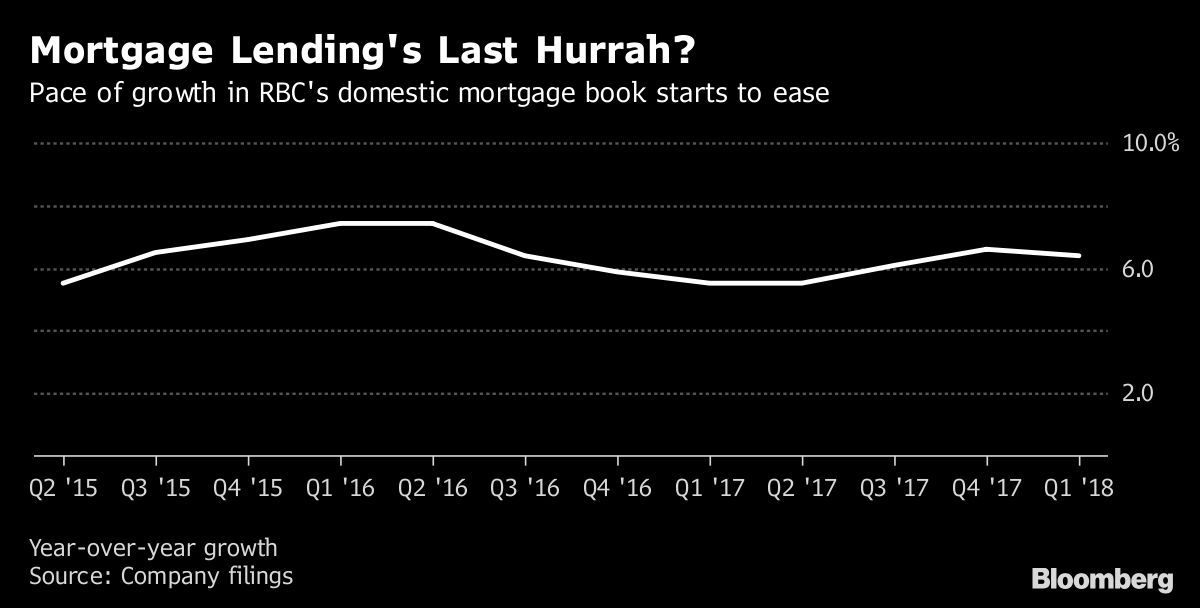 "The beat was driven by better than expected results across most business lines," Credit Suisse Group AG analyst Nick Stogdill said in a note to clients.
Royal Bank


shares were little changed at C$102.15 at 9:54 a.m. in Toronto. The stock has slipped 0.5 percent this year.
Canadian banks have been anticipating a slowdown in mortgage lending amid elevated housing prices, overextended borrowers, and tougher mortgage eligibility rules that kicked in this year. Still, the nation's housing market remains

robust. Canadian home sales last year were second only to a record 2016, though sales in Toronto's market has cooled.
"We will continue to help Canadian homeowners while supporting balanced growth in the market," Chief Executive Officer David McKay said on a conference call after earnings were released. "We will not compromise our risk profile just to add add mortgage volume."
Worried Borrowers
The country's banking regulator changed the rules for borrowers in the uninsured mortgage market, making it more difficult for those with less than a 20 percent down payment to qualify for loans as of Jan. 1. The measures, known as B-20 guidelines, requires borrowers to qualify at the greater of the Bank of Canada's five-year benchmark rate or 2 percentage points higher than the offered mortgage rate.
"That did cause a little bit of an uptick in November and December just because of market psychology," Chief Financial Officer Rod Bolger said in a phone interview, noting some borrowers may have been worried about qualifying under the new rules. "Canadians really want to be homeowners."
The change will have no impact for many borrowers, though it may cause some to pay a little less for a home or increase their down payment, Bolger said. Still, he said Royal Bank is forecasting mortgage growth to slow to mid-single digits this year.
Canadian Imperial Bank of Commerce, the country's fifth-largest lender, saw a 9.6 percent increase in mortgages and home-equity credit lines in the quarter, its slowest pace since 2016, when it reported results Thursday. CIBC has

expanded mortgage balances at a faster pace than its domestic peers in the past two years after beefing up its mobile mortgage adviser sales force.
Bank of Nova Scotia and Bank of Montreal report results on Feb. 27, followed by Toronto-Dominion Bank on March 1.
Here's a summary of Royal Bank's results:
Net income fell 0.5 percent to C$3.01 billion, or C$2.01 a share, from C$3.03 billion, or C$1.97, a year earlier, Royal Bank said Friday in a

statement. Adjusted profit, which excludes some items, was C$2.05 a share, beating the C$1.99 average estimate of 13 analysts surveyed by Bloomberg.
Profit was reduced by C$178 million — or about 12 cents a share — from a charge tied to U.S. tax changes. A year earlier, the bank benefited from a C$212 million gain from selling the U.S. operations of its payments processor Moneris.
The quarterly dividend was boosted 3.3 percent to 94 cents.
Total revenue rose 15 percent to C$10.8 billion, outpacing the 5.5 percent increase of non-interest expenses, which reached C$5.61 billion.
Wealth-management earnings surged 39 percent to a record C$597 million on higher average fee-based assets, net interest income and rates and a lower tax rate.
Earnings from capital markets rose 13 percent to a record C$748 million, helped by higher investment-banking fees and benefits from U.S. tax reform.
Investor and treasury services had profit of C$219 million, up 2.3 percent, while insurance earnings fell 5.2 percent to C$127 million.
(Updates with share price in fifth paragraph, CFO comments starting in ninth.)