In the ever-changing global landscape for online gambling regulations, Russia is the next possible hurdle for the owner of PokerStars.
Toronto-based


Stars Group Inc., which runs the world's largest online poker site, released 2018 earnings guidance on Wednesday that assumes new rules looming in Russia will block payments to some offshore gambling services.
Shares, which had almost doubled in the year through Tuesday, fell as much as 10 percent in Toronto before recouping most of the loss.
While Russia has yet to give details on how it will enforce the new law that's due to take effect May 25, it's expected that the country's banks may stop conducting business with blacklisted offshore payments processors and gambling companies, according to Stars Group documents. Chief Executive Officer Rafi Ashkenazi told analysts the company has a strategy to mitigate the potential impact.
"We have plan-As and plan-Bs and plan-Cs for every type of scenarios that may happen in the market," Ashkenazi told analysts after reporting a 16 percent increase in quarterly revenue. "We are monitoring, we are assessing and we are ready."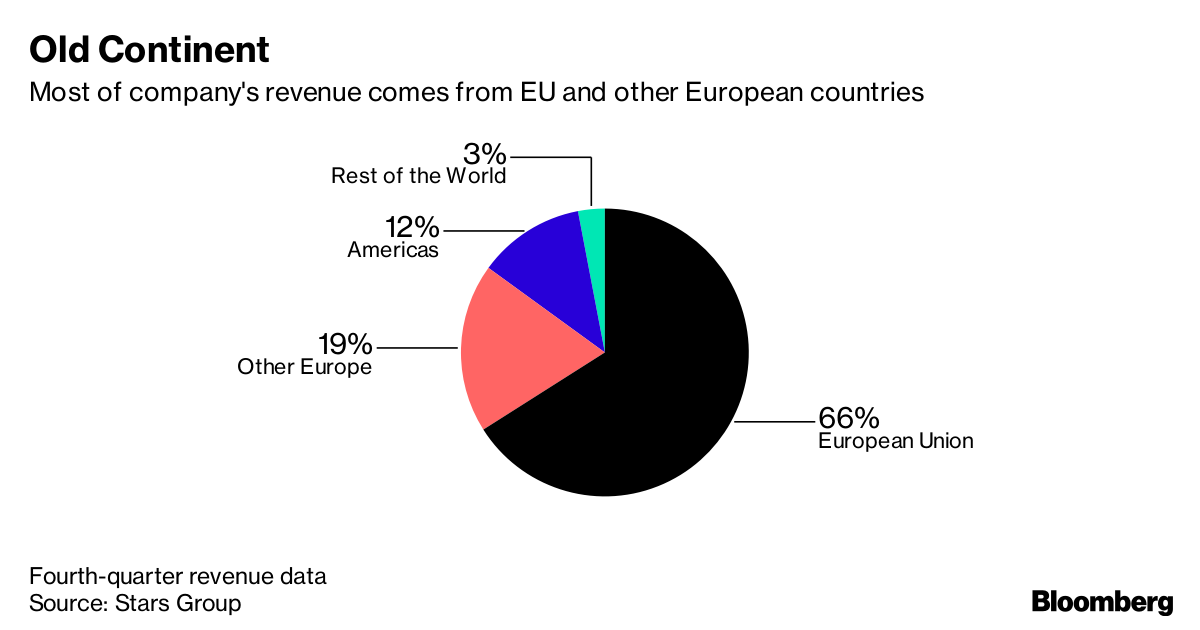 Exiting Russia, which Ashkenazi described as one of the company's top markets, would be a blow after getting out of the Australian online poker business last year because of a new law. The company, which has been branching out to reduce its reliance on poker, has since

invested in the regulated Australian sports-betting market.
"The online gaming industry is quite a volatile industry," said James Kilsby, a Washington-based researcher at GamblingCompliance. "Most companies now are wary that they are not too heavily reliant on one jurisdiction."
According to Stars Group, its online poker and casino products are currently available in Russia even though gambling activities in the country are restricted by law. The market has been a bit of a grey zone as "it is not clear whether offering online gaming from websites and servers established outside of Russia is considered as an activity taking place 'in Russia,"' the company wrote in an annual form describing its business.
Stars Group sees Russia as an "emerging regulatory market" as licenses for sports betting now become available, Chief Legal Officer Marlon Goldstein said on the call. He said the company, which has been sponsoring poker tournaments in the resort town of Sochi, has been "very active on the ground."
"This will be a closely watched market," Macquarie Capital Markets analyst Chad Beynon wrote in a note.