Spotify Technology's coming market debut has received a lot of attention because it's different, a direct listing rather than a typical initial public offering. But the IPO of Dropbox Inc., another potentially hot deal that could comes as early as next week, is in its own way nearly unique: Its executives appear to truly want investors to know how much money Dropbox actually makes, or in this case doesn't.
At the bottom of the company's income statement is its net loss. The prospectus provides no other bespoke metric that claims to better measure performance. There is no effort to say compensation paid in stock or marketing expenses are not a real cost. Instead, Dropbox confirms that what it lost, $111 million on roughly $1.1 billion in revenue in 2017, is indeed what it lost. Ebitda, the magical and seemingly ubiquitous financial measure that makes certain real costs, like debt payments and taxes, vanish, appears nowhere in Dropbox's prospectus.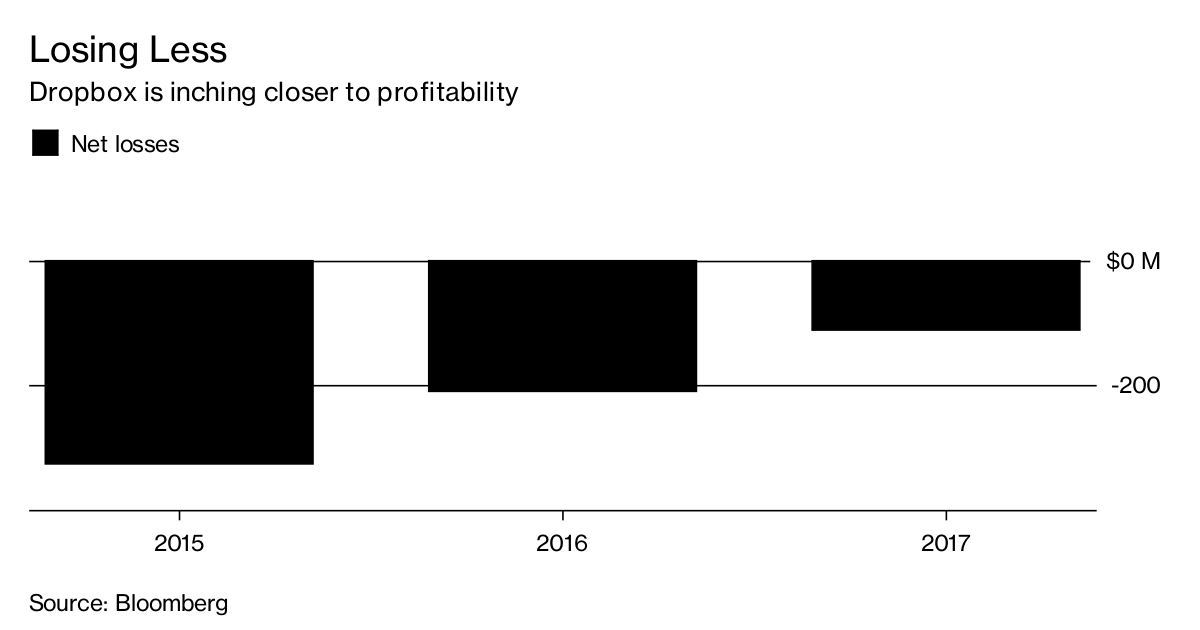 Unless you have read a lot of IPO prospectuses lately, you might not understand how rare this all is. And you might think disclosing clearly, and consistently, how much money a company makes is maybe the point of financial statements and IPO prospectuses. But that's not what actually happens these days.
Just consider Spotify, which is listing — not technically selling — its shares. Its listing document points potential investors to some gussied-up accounting. Ebitda shows up on the second page of its prospectus. Spotify says its management thinks Ebitda is a useful metric for investors to use to evaluate the company's performance. Of course it would. Going by Ebitda, Spotify lost only $400 million in 2017, far less then its actual loss of $1.5 billion.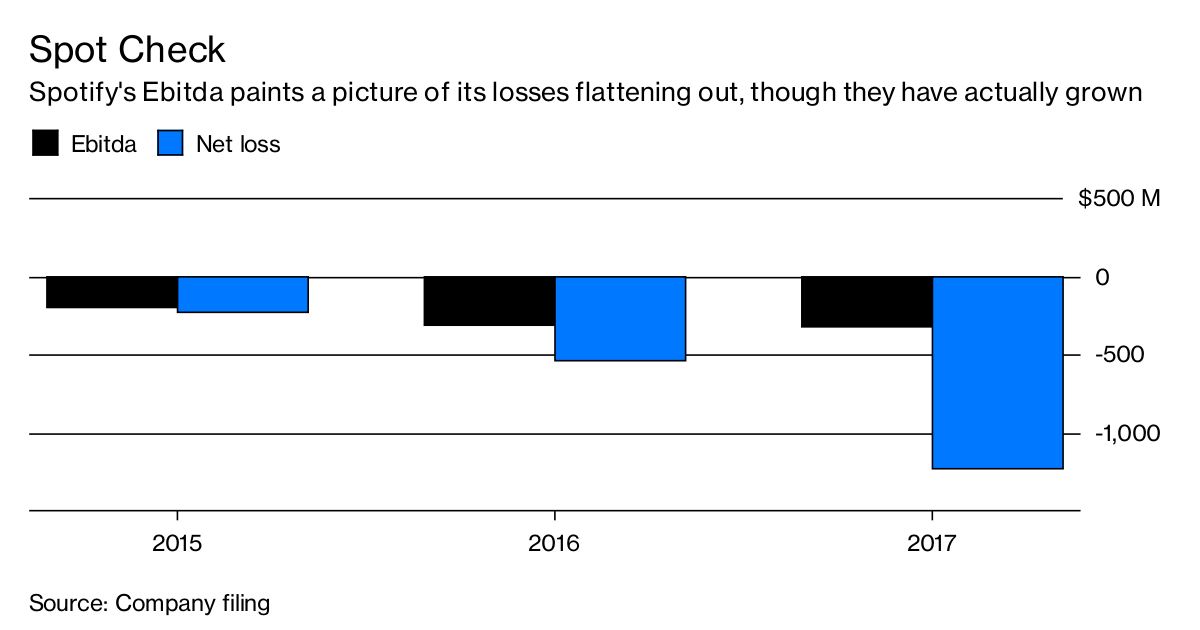 Still, Spotify is far from the worst offender of accounting alchemy. That award, by my book, goes to toymaker Funko Inc., which said in its IPO last year that its earnings, as measured by "adjusted Ebitda," were up 86 percent in the previous two years. In fact, actual net income before its offering had been shrinking.
But Funko and Spotify are far from alone. Fitbit Inc. excluded the cost of rash-related recalls from its preferred measure of earnings. In fact, almost every prominent IPO in recent memory has some sort of tailored accounting metric that makes its earnings look better than they are, from Blue Apron Holdings Inc. to Snapchat owner Snap Inc., even as far back as Twitter Inc. And not every IPO of companies that have used boastful accounting has been a disaster. Stitch Fix Inc. in its November offering documents said its adjusted Ebitda for fiscal 2017 was $60 million. Its actual loss was $600 million. Its stock, nonetheless, is up 45 percent.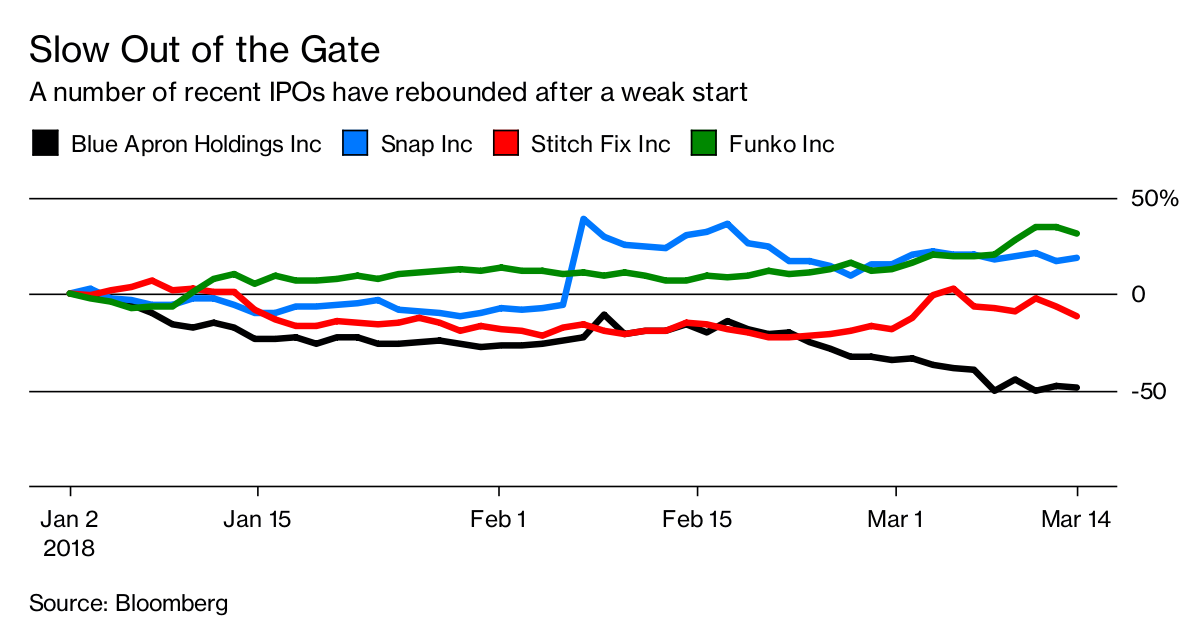 What's more, some have argued that some adjustments might actually offer a better picture of a company's actual earnings, as in the case of the recent tax cuts that created some one-time gains and losses in the fourth quarter that were surely not reflective of continuing performance. Even generally accepted accounting principles may not provide a "true" picture of a company's earnings. GAAP rules contain quirks that at times include costs that companies could argue are not real and exclude costs that are. Still, given the choice between a world that has one imperfect accounting measure and one in which every company just chooses to put on its best face, I think we are better off with the former.
Dropbox declined to comment, but its accounting transparency does seem to be a conscious choice and not just, say,  because it wasn't willing to pay more for the obfuscation package from its accounting firm. Last year, Dropbox CEO Drew Houston told Bloomberg Businessweek, "Warren Buffett better be able to look at our business and say, 'This lemonade stand makes money.' " And Dropbox is not completely pure. It does point investors to a metric for free cash flow, but it doesn't use any gimmicks to derive that figure, and it isn't prominent in its offering statement. There's also a pro forma figure for its share count, but that will go away after the offering.
I have no idea whether Dropbox or Spotify will end up being the better business. Spotify's revenue is growing slightly faster than Dropbox's. Spotify's losses continue to grow while Dropbox's are shrinking. Dropbox is reportedly looking to value its shares at more than six times sales, which is slightly higher than competitor Box Inc. Spotify, because it is listing directly, will not specify a value for its shares. But my guess is that over the long haul investors will do better in companies like Dropbox that are run by executives who are willing to be straight with them. 
This column does not necessarily reflect the opinion of Bloomberg LP and its owners.