As the rest of the health-care industry undergoes a seismic wave of consolidation, Walgreens Boots Alliance Inc. is standing pat. 
The pharmacy giant on Wednesday announced profit and sales results for its fiscal second quarter that beat analyst expectations. But good short-term numbers shouldn't overshadow long-term threats. Shares rose 1.3 percent on Wednesday but have fallen 20 percent in the past year. The standalone pharmacy at the core of the Walgreens business model will always have a place. It will just be a place with slower growth and tighter margins.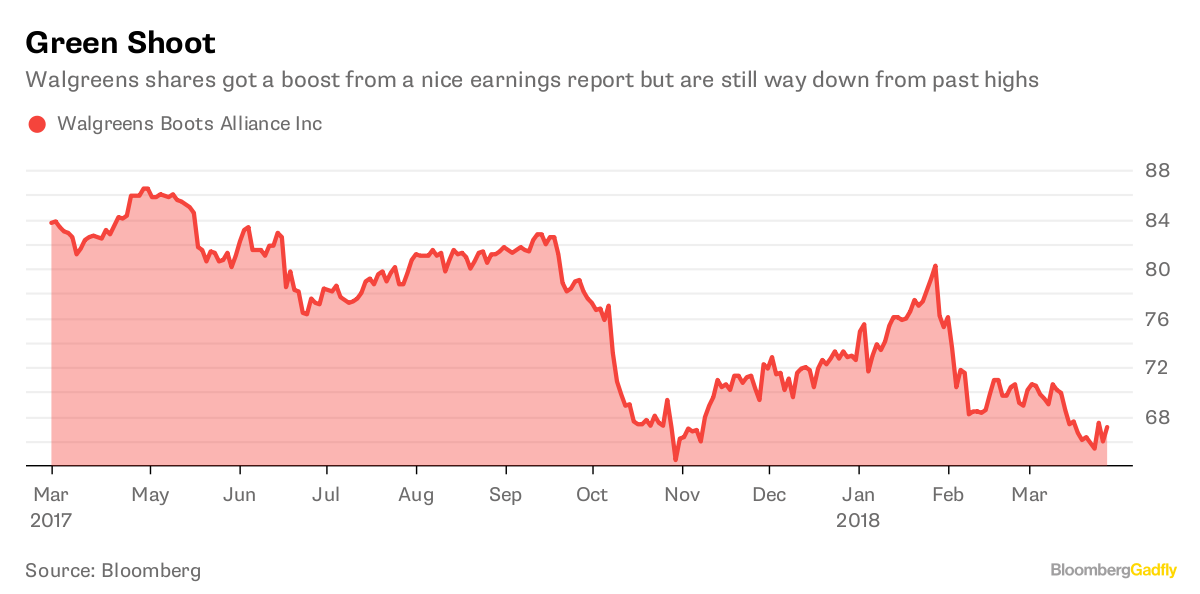 Results at Walgreens are driven by its U.S. pharmacies. They provide 72 percent of revenue, with healthy prescription drug sales making up for consistently weak retail results.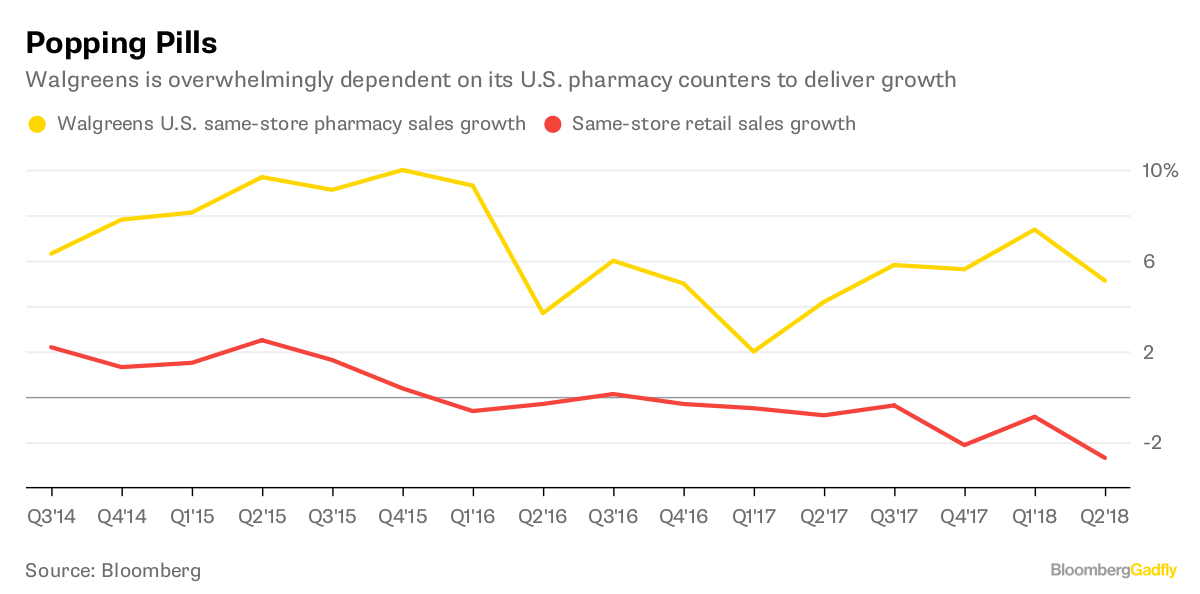 It's a dangerous over-dependence.
Strong prescription growth in the latest quarter helped Walgreens overcome generic-drug price declines and insurer efforts to spend less on drugs and pharmacy services. But if prescription growth slows and insurers keep ratcheting up cost-control efforts, then Walgreens will be in trouble. 
The country's two largest pharmacy benefit managers (Express Scripts Holding Co. and CVS Health Corp.) merging with two of its largest insurers (Cigna Corp. and Aetna Inc.) will further pressure Walgreens. CVS's purchase of Aetna is a particular threat; the novel pharmacy-insurer hybrid will do its best to keep enrollees in-house and out of Walgreens stores.
Express Scripts teams up with Walgreens to buy drugs more cheaply in some cases. But Walgreens's collaboration with Prime Therapeutics, a private PBM, to create a combined specialty pharmacy and mail-order service has put it in direct competition with Express Scripts. The latter will gain more ammunition for its fight with Walgreens by merging with Cigna.
Meanwhile, recent moves by Aetna and UnitedHealth Group Inc. to give some enrollees bigger drug discounts may squeeze profits across the pharmacy industry. 
Walgreens added nearly 2,000 Rite Aid Corp. stores in a recently completed deal that was downsized by regulators. That will give it some scale and help it realize some synergies; it can close overlapping stores or improve languishing locations. But those will likely be short-term boosts, and Walgreens lacks a captive customer base or broader health-care presence to protect itself against a harsher pharmacy environment in the future. 
Walgreens is redesigning stores and investing more aggressively in makeup, among other initiatives. That's worthwhile at a time when undifferentiated stores are being punished.
own over-the-counter drug line. And the Albertsons Cos. Inc. acquisition of the remainder of Rite Aid, announced last month, will strengthen and spread an alternate, grocery-focused retail model Walgreens may have trouble matching. Aetna and CVS, meanwhile, will increasingly push in-store clinics, another area where Walgreens is lagging.
This is a lot for even the most revolutionary store redesign to counter. 
Walgreens's big international business — stores outside the U.S. and its international drug distribution arm account for nearly 30 percent of its revenue — provide some measure of insulation. But in spite of Walgreens's protests to the contrary on Wednesday's earnings call, it won't be enough as competitors more radically re-imagine what a pharmacy can be and as its margins shrink. 
Walgreens has the financial flexibility to join the wave of consolidation by buying a health plan or jumping into another part of the supply chain. Or it can be squeezed on multiple sides for the foreseeable future. 
This column does not necessarily reflect the opinion of Bloomberg LP and its owners.
To contact the editor responsible for this story:
Mark Gongloff at mgongloff1@bloomberg.net