Tech has become the market's, and perhaps the economy's, new too-big headache.
Earlier this week, news that Facebook Inc. allowed a firm with ties to Donald Trump's presidential campaign and a history of trying to sway elections to collect the personal data on 50 million users not only spooked the tech sector but the market in general. And while not a publicly traded company, Uber Technologies Inc. didn't help matters when a self-driving car it was testing killed a woman in Arizona. Before rebounding on Tuesday, a group of the largest tech stocks had lost about $70 billion in market cap.
But while Facebook was the catalyst, the fuel for the sell-off in tech and the rest of the market was a growing worry that tech stocks have taken on too much money. This year, $47.5 billion has flowed into tech mutual funds and exchange-traded funds, accounting for all the money that has gone into stock funds and then some. Exclude tech, and those funds have experienced a net outflow of just more than $4 billion in 2018. Fund managers in a survey released on Tuesday by Bank of America Merrill Lynch said they thought big tech was by far the most crowded trade in the market. Shorting volatility, which had recently been neck-and-neck with technology stocks in terms of popularity, fell far behind.
We've been here before. In late 1999, just before the dot-com bubble bust, technology stocks accounted for just more than 29 percent of the S&P 500 Index. They are nearly back to that point, now accounting for just more than 25 percent of the S&P 500. But that doesn't include Amazon.com Inc. or even Netflix Inc., which S&P Dow Jones Indices classify as consumer discretionary stocks. Include Amazon and Netflix, and tech's share of the S&P 500 total market cap rises to 28.6 percent.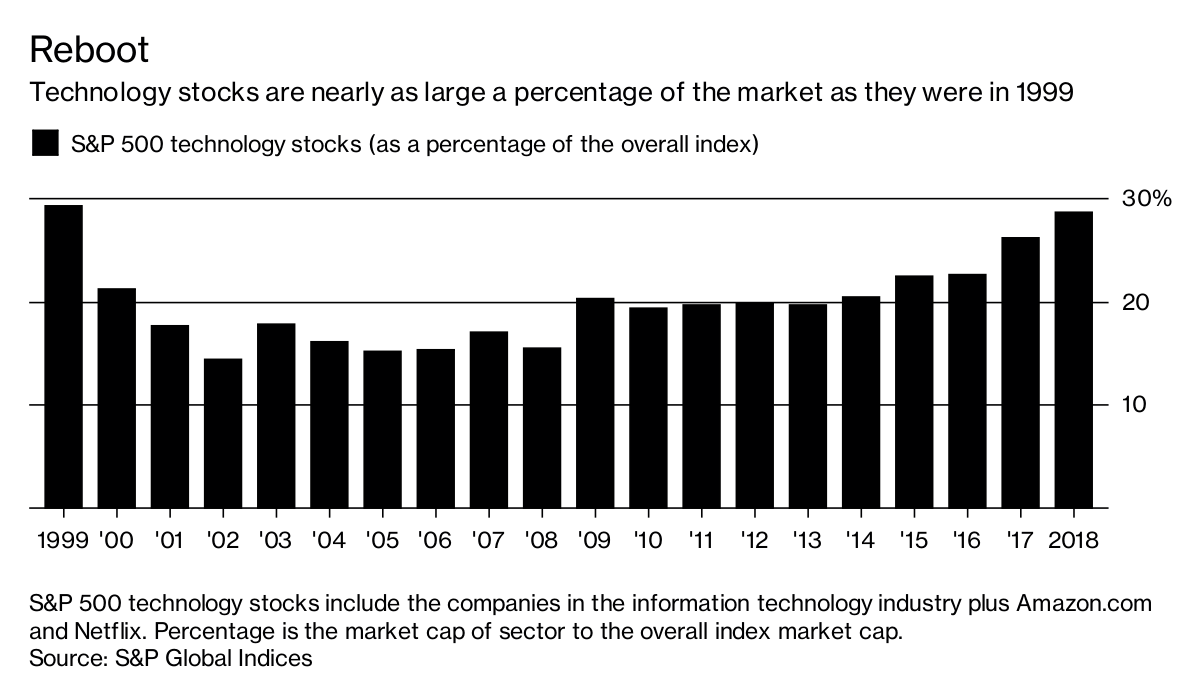 Investors' concerns now have to take on a political dimension as well. Facebook's latest revelation of data sharing is prompting congressional hearings. New regulations on the giant social network and its rival Twitter Inc. were already being advocated in the wake of disclosures about social media's role as a conduit for misinformation during the election. Some lawmakers are calling for a tighter rein on digital advertising, which would affect not only Facebook but Google parent Alphabet Inc. and others. Amazon is wreaking havoc on traditional retailers. And there is a growing sense that the big tech companies have become the nation's new monopolies. If the government were to win its unconventional case to block AT&T's acquisition of Time Warner, big tech could be its next target.
Still, determining whether the market is too top heavy with tech has a different answer now than it did in the late 1990s. If tech is a bigger portion of the economy, it deserves to be a more significant portion of the value of the stock market. There are no easy parameters for how much, though. Tech generates 24 percent of the profits of the large companies in the MSCI US index, according to Bank of America Merrill Lynch, which includes a portion of the consumer discretionary sector in its measure of tech. That's up from 15 percent in 1999.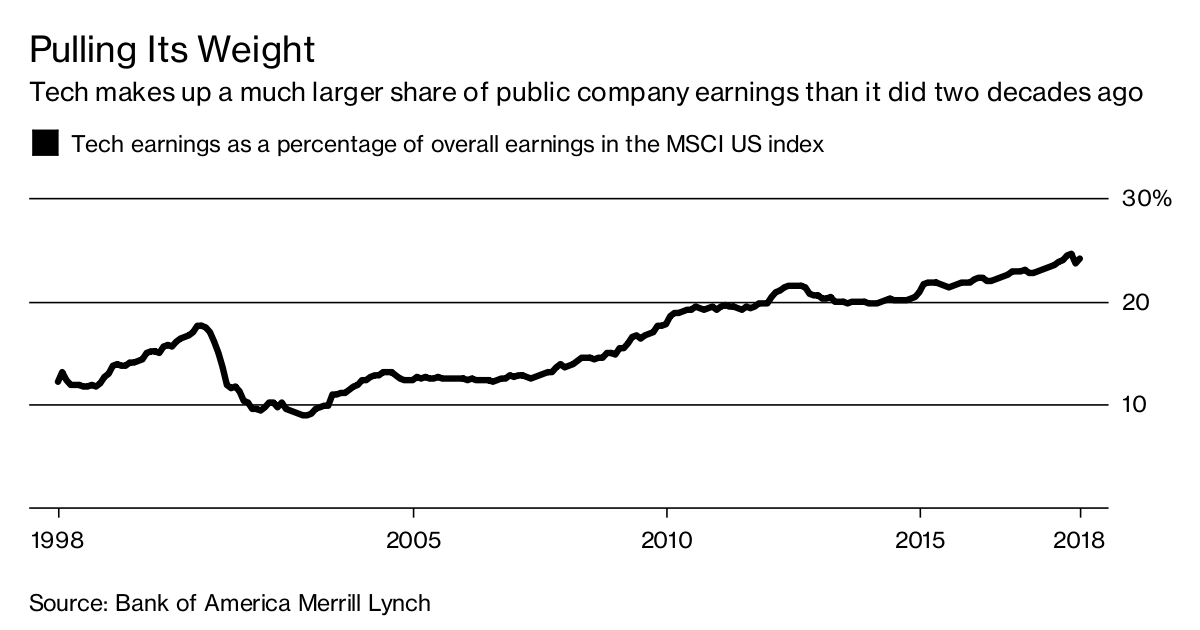 Warren Buffett's favorite gauge for valuing the market in general is reportedly to compare the total market cap of all stocks with GDP, which is sort of a giant price-to-sales ratio. He has warned in the past that he gets nervous when total market cap rises above 133 percent of the value of GDP. It hit 151 percent in the late 1990s.
Just as with the market, figuring out tech's share of the economy depends on definition. Studies have put it anywhere from 5 percent to 8 percent of the total economy, or as much as $1.6 trillion. The market cap of tech stocks, though, is now a whopping $6.9 trillion, or 430 percent of GDP. Of course, even the measure for the overall market looks elevated right now at 122 percent, and there is good reason that tech should trade above that because of its persistently higher profit margins and growth.
But if lawmakers, regulators and society in general decide big tech has become too large, that could limit how much tech companies can grow in the future. And eventually, as with finance, some may soon wonder whether too much of the nation's resources, both investment and workers, are heading into the sector than is productive. If the tech sector is bumping up against the limits of what is tolerable for the economy, investors may have already pushed the sector well beyond what the market can handle.
This column does not necessarily reflect the opinion of Bloomberg LP and its owners.