Wayfair Inc.'s latest earnings results show just how much of a disruptor it's been in the home-furnishings industry.
The company reported Wednesday that its retail net revenue was $1.4 billion, a 48 percent increase over a year earlier. It notched 11.8 million active customers in the quarter, a 33 percent increase over last year. It is a veritable market-share-grabbing machine, and investors rewarded its progress by sending shares up more than 12 percent in early trading.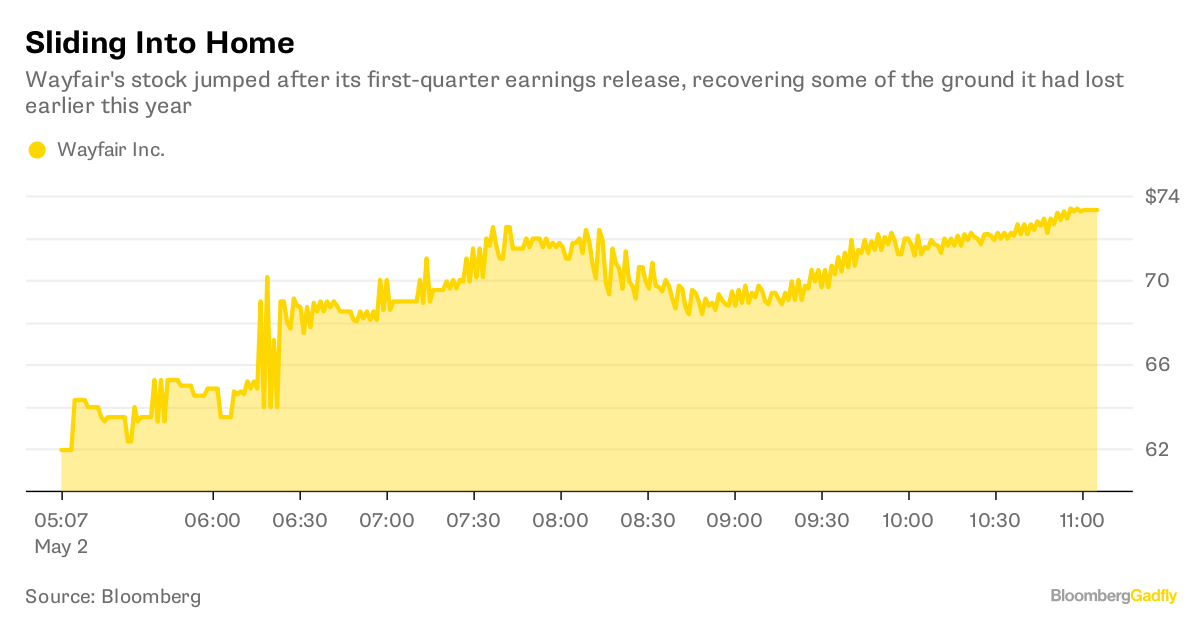 Still, many questions remain about the online retailer's long-term viability. Wayfair isn't turning a profit, and some are skeptical that it will be able to do so, since shipping bulky goods quickly just isn't cheap. But among the biggest unknowns is how strong a pace of growth Wayfair can sustain in the face of change in the competitive landscape.
To date, Wayfair largely hasn't had to go toe-to-toe with the e-commerce A-Team. Bed Bath & Beyond Inc. and Pier 1 Imports Inc., for example, are each deeply troubled companies contending with struggles in their brick-and-mortar businesses.
And smaller players such as Haverty Furniture Cos. Inc. and Bassett Furniture Industries Inc. aren't particularly well-positioned to become formidable national or global e-commerce presences.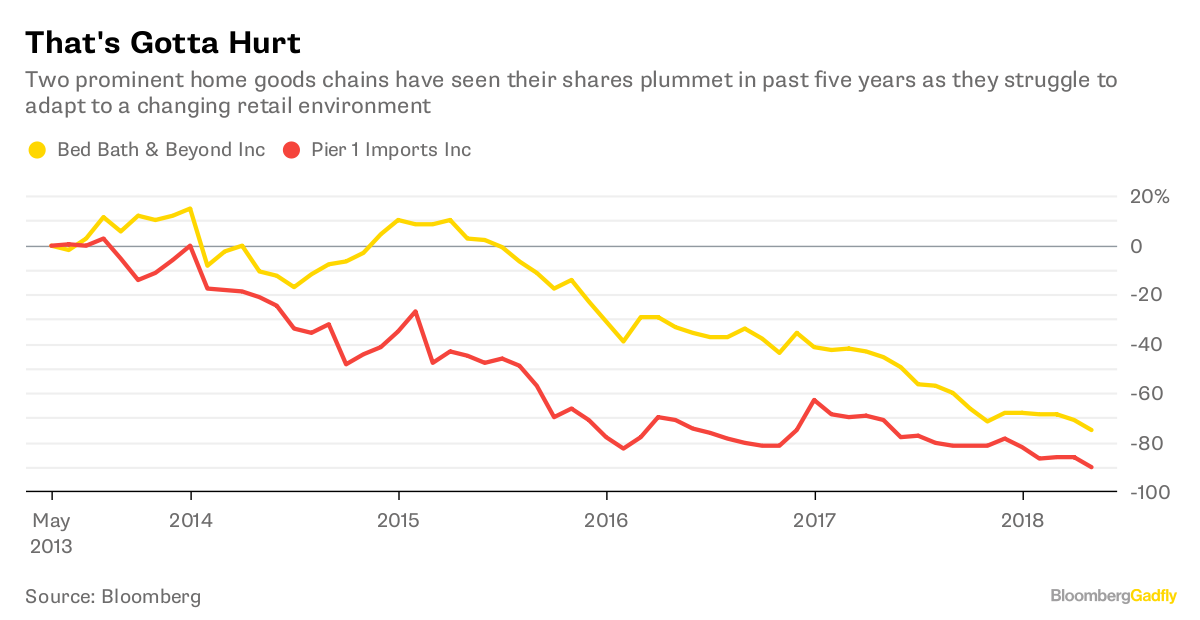 Even Overstock.com Inc., a credible challenger, has looked vulnerable lately. In part, that's because its CEO appears more focused on the company's blockchain division than its retailing business. But, also, Overstock saw its revenue dip 3 percent in 2017 from the previous year as it struggled to deal with challenges associated with optimizing its pages for search engines.
It probably helps Wayfair that two excellent home furnishings operators—HomeGoods, owned by TJX Cos., and At Home Group Inc.–don't have e-commerce businesses. But the competition is starting to get more challenging.
Most obviously, Amazon.com Inc. is ramping up its offerings in the home goods category, including with private brands such as Rivet. Walmart Inc., too, has dramatically expanded its home assortment over the last year and recently debuted a new digital experience for these items that allows customers to shop by style, such as by "bohemian" or "mid-century." And Walmart isn't just making a home goods push under its flagship banner: The company has launched a stand-alone digital shopping destination called AllswellHome.com that sells bedding and mattresses. That's a pretty narrow merchandise assortment, of course, but I suspect more new home brands are to come.
Against that backdrop, it will be critically important for Wayfair to show it can continue to derive a heftier share of its sales from repeat customers.  Simeon Gutman, an analyst with Morgan Stanley, points out in a research note that new customer acquisition is going to get significantly harder for Wayfair as Amazon and others emerge as compelling alternatives.
And the economics of those repeat purchases are much better, which is especially important for a company that's eager to prove it has a clear path to profitability. Gutman estimates the average repeat customer at Wayfair spent more than $800 with the retailer in fiscal 2017, far higher than the $240 spent per new customer. Additionally, he estimates it cost Wayfair, on average, $14 to generate a repeat order, far less than the $51 spent to acquire a new order.
Wayfair's latest quarter offered encouraging signs on this measure: Repeat customers placed 64.3 percent of total orders, compared to 60.4 percent of total orders in the quarter a year earlier. It would do well to continue delivering improvements on this front if it is to keep up its impressive run. It may only get tougher from here.
To contact the editor responsible for this story:






Beth Williams at bewilliams@bloomberg.net