Martin Sorrell knows a few things about disruption, having built a global advertising empire from scratch from a shell of a company that made wire baskets. 
But the tectonic shifts now shaking the industry have put the world's largest advertising group and its 73-year-old chief on the defensive. On Thursday, WPP Plc announced a bleak outlook, following two cuts to its sales forecast last year that Sorrell called embarrassing. Shareholders anticipating a rebound from the company's worst annual performance since the financial crisis were left disappointed.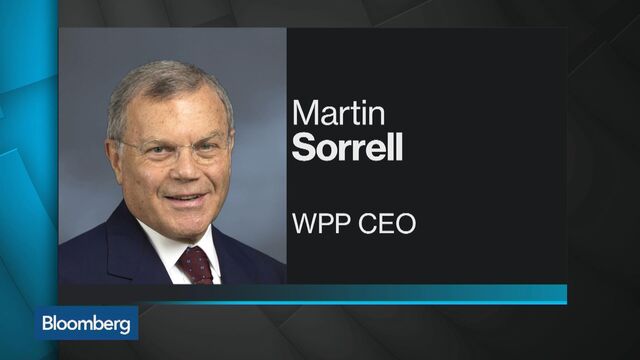 Sorrell's pledge to simplify the sprawling 200,000-employee company and control costs wasn't enough to stem an investor exodus: the stock fell as much as 15 percent, the most intraday since 1999, prompting a four-minute trading suspension. 
"There's a real sense of shock and awe at what's happened to his business model," said Alex DeGroote, media analyst at Cenkos Securities. "This is a stark reminder of the significant challenges WPP faces."
Sorrell is far from alone in an industry beset by a retreat from major customers along with the online competition eroding the core business. Global giant and WPP client


Unilever Plc is holding back ad spending to cut costs, while web companies cut out advertising agencies that act as middle men and consultants like


Accenture Plc and


Deloitte LLP poach digital marketing work.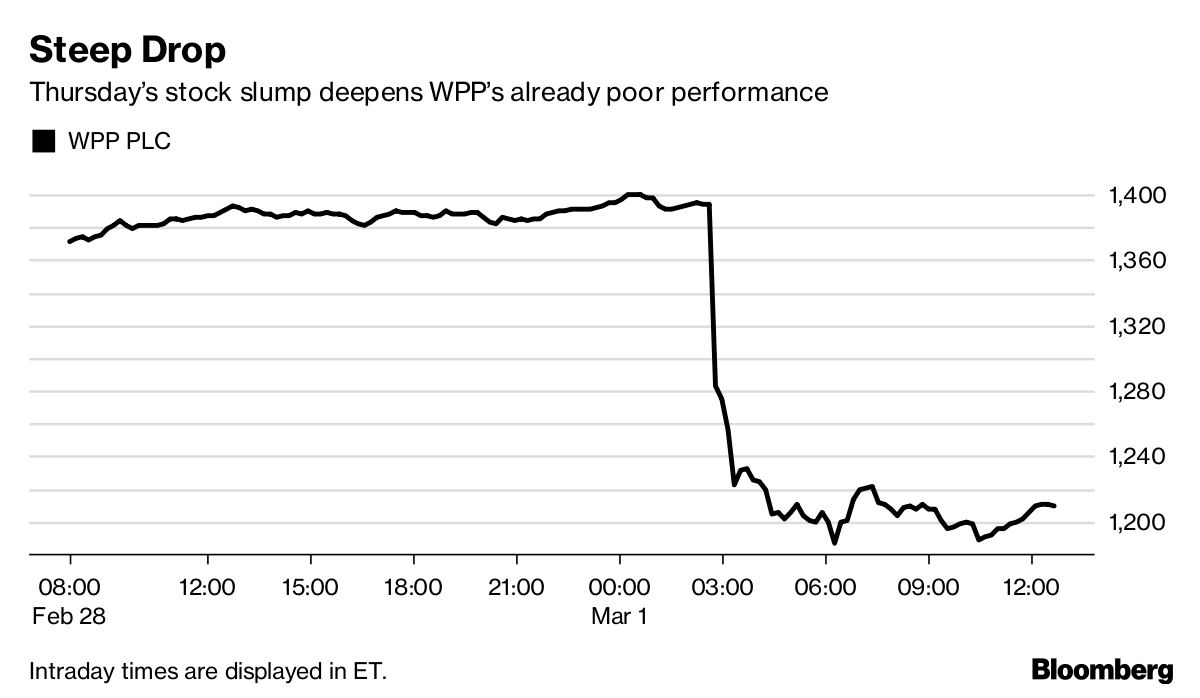 WPP said 2018 would be flat and long-term earnings growth will be as little as 5 percent and twice that at best, compared with a prediction of as much as 15 percent previously. The year got off to a "slow start," WPP said, continuing a trend from 2017 that saw flat margins and sales. Sorrell said the outlook is deliberately cautious.
"Obviously we were sort of embarrassed by what happened in the last three quarters of the year where we were over-optimistic," he said in a presentation to analysts in London.
Thursday's stock drop deepens an already poor market performance of WPP, which lost more than a quarter of its value over the course of last year, or about 6 billion pounds ($8 billion). The stock dropped as much as 207 pence in London to 1,187 pence, the worst performer on the FTSE 100 Index, sending its market capitalization to 15.4 billion pounds. Having founded the company in the 1980s, Sorrell is the biggest individual shareholder at WPP, with a stake of about 1.4 percent, according to data compiled by Bloomberg.
The fallout hammered French rival Publicis Groupe SA, which last month struck a more optimistic tone. The Paris-based company dropped as much as 6.1 percent.
Sorrell, who has bought hundreds companies in the past 30 years to form his sprawling ad network, highlighted better management as key to a turnaround: WPP is trying to break down silos among its various creative, ad buying, strategy and public relations businesses to improve its offerings to clients. It's appointing country managers and sub-regional leaders to try to integrate at a country level.
Sorrell said he's focused on reacting to the challenging outlook, rather than "moaning" about it.
WPP's advertising sales have long been seen as a bellwether of strength in the global economy, as companies' marketing budgets typically track business performance. But consumer-goods companies that have long been WPP's bread and butter are growing more slowly than those in the technology and health-care sectors. Their reduced ad spending is the biggest headwind facing WPP, Sorrell said.
Advertising clients are also moving more marketing dollars toward digital to fend off the likes of Amazon.com Inc. and Alibaba Group Holding Ltd. WPP has struggled to shift its services to help businesses transform their business-to-consumer platforms, an area where Accenture, Deloitte and International Business Machines Corp. have stepped in.
Other rivals have adjusted quicker. Publicis in 2015 paid $3.7 billion for Sapient, which advises brands, energy and commodity traders and governments on technology and online strategies.
Sorrell downplayed the threat from Google and Facebook, citing a recent comment from a Google executive who said the tech company doesn't want to shut out advertising agencies. He also talked down the challenge from the consultancies, saying that WPP is winning more accounts than it is losing to those competitors.
"Units of WPP are significantly involved in digital transformation with clients," Sorrell said.